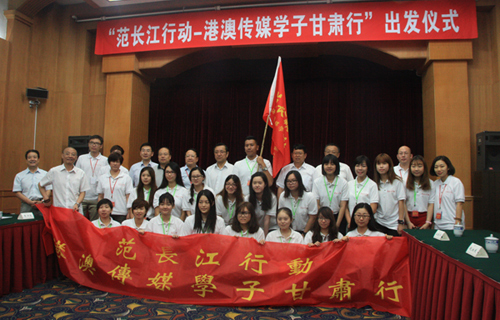 Launch ceremony of HK - Macao student media tour, in Lanzhou, Gansu province.[Photo/chinadaily.com.cn]
Students from five colleges in Hong Kong and Macao set off on a tour of the mainland's Gansu province, on August 2, to speak with local people and to honor the memory of Fan Changjiang, a reporter of Hong Kong's Ta Kung Pao newspaper.
Fan Changjiang was sent to five Chinese provinces in the 1930s to report on the situation and caused quite a stir with his writing, with many articles coming from Gansu.
The group of 20 young students, from Chinese University of Hong Kong, Hong Kong Baptist University, and the University of Macau, had a "Fan Changjiang activity — Hong Kong and Macao student media Gansu tour" launch ceremony in the city of Lanzhou, capital of Gansu, on Aug 2.
The activity was held with the idea of retracing Fang's steps and interviewing people in Lanzhou, Zhangye, Linze, Dunhuang, and other cities, with Li Dahong, vice-director of Ta Kung Pao, at the head.
Lian Ji, head of Gansu Provincial Publicity Department, was on hand to address the opening ceremony and to describe Gansu's tourist attractions, social development, natural resources, and environment, where he recommended that the students describe how Gansu's people relate to the ecology, environment and survival.
Lian went on to say, "Gansu has made a great effort to improve its environment with reforestation and other environmental protection methods in recent years in the arid area and set up a nature reserve with State Council help in its western part."
One Baptist University student, Wang Kaiwen, said that she would do her best to make a full report and provide an overall look at Gansu for the people in Hong Kong and Macao, to which Li added, "This activity allows Hong Kong people to tell some true stories about the mainland through firsthand experience and it has attracted many students and teachers, and I hope it will continue year after year."
Edited by Roger Bradshaw