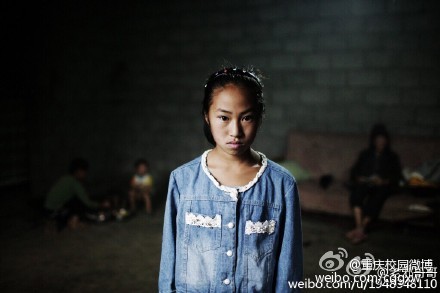 Mukuyiwumu [Photo/Sina Weibo]
An essay written by a Yi ethnic orphan girl in the poor Liangshan Yi autonomous prefecture in Sichuan province has stirred concerns among many Chinese people.
The girl, named Mukuyiwumu (Liu Yi as pen name), is a fourth grade student in a poor village in Meigu county of the prefecture. She lost her father four years ago and recently her mother also passed away. Her heartbreaking story about her mother's poor health and death was posted online by a Xinhua correspondent and many Chinese netizens expressed deep concerns about the child.
In her essay, she said her mother had been sick for a while, and one day, her mother was too sick to get up and she called her uncle to send her to a county hospital, miles away from her run-down home in a poor village in the mountainous area.
But the hospital could not save her life. Her mother insisted on going home and died the day after she was sent home.
"My textbook said there is a place called Sun Moon Lake (in Taiwan), that's formed with tears I shed for missing my mom."
The hashtag #the saddest essay written by a primary school pupil# became a hot topic on Sina Weibo Tuesday, a Twitter-like social networking site. It has been read by more than five million people by Tuesday afternoon. Many netizens forwarded the story prefaced with "tears".
A Weibo user under the name Banxiaweiliang2588 said: "Kid, wish you no more hardship in the rest of your life." Another user called LengbudingKKK said: "I am almost moved to tears." Netizen ksdfik4 said: "Moved to tears. The most common words expressed the most uncommon feelings. Kid, wish you have better life now." Others expressed wishes to help her.
Despite years of rapid economic growth in major cities and coastal areas, people in China's mountainous areas like the Liangshan Mountains still live a very poor life. The government has been making efforts to assist these areas by allocating special funds and support but results are not obvious due to the harsh natural conditions and poor economic foundation.
Liangshan has the largest group of people who belong to the Yi ethnic group, with more than 2 million Yi people.
In the aftermath of widespread drug-taking, drug trafficking and AIDS, many people have died, become handicapped or been jailed in Liangshan, which causes a deterioration in children's living conditions, Beijing Youth Daily reported last year.
The latest statistics available show that in early 2009, more than 10,000 people were infected with HIV in Liangshan. More than half of the HIV carriers were intravenous drug users. A large number of women in their 30s had been infected with HIV by their drug-taking husbands, the newspaper said.
The poverty of mountainous Liangshan stems from both its inaccessibility and the rising number of HIV carriers and orphans as a result of widespread AIDS. If no efforts are made to solve such problems, children from Liangshan might be willing to work in plants in coastal regions rather than stay at home, Beijing Youth Daily said.