Pudong on the way to become a shipping and air transport hub
Updated: 2015-07-30
( chinadaily.com.cn )
The China Shipping (Group) Company initiated the construction of the China Ocean Plaza in Lujiazui, Shanghai, on July 28, the Pudong Times reported.
The company, as one of the biggest State-owned shipping enterprises, is committed to developing Shanghai into an international shipping center.
The building, situated on an area of 9,000 square meters, will become a landmark on the east bank of the Huangpu River symbolizing Pudong and Shanghai's status as an international shipping center when it is completed.
Apart from the main building, the project will also include the construction of an open dock theme park featuring the century-old Dongjiadu Shipyard, the oldest heritage site of the Shanghai shipping industry. The park will focus on the integration of shipping culture, water entertainment and charity activities with the aim of showing the century-long development of the modern shipping industry and culture to the outside world.
Another leading shipping group Sinotrans and CSC Holdings Co, has also set up its shipping department in Pudong. It is currently dealing with the business registration formalities and expected to start operations by the end of Sept 2015.
In addition to the shipping groups, Pudong is also actively seeking strategic cooperation with China Eastern Airlines, one of the largest state-controlled air transport companies, with the aim of facilitating the development of the district's air transport industry.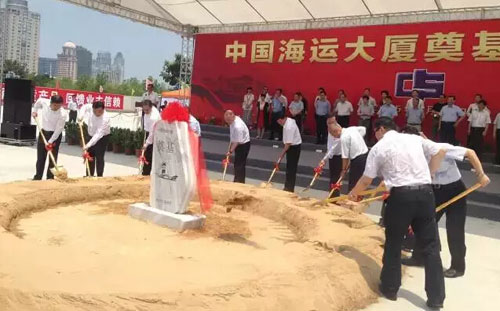 The foundation-laying ceremony of the China Ocean Plaza [Photo provided to chinadaily.com.cn]