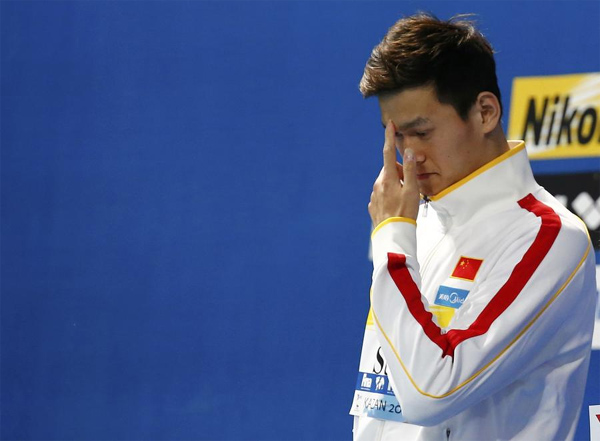 China's Sun Yang is awarded for best men's swimmer of the championships, at the Aquatics World Championships in Kazan, Russia, Aug 9, 2015. [Photo/Agencies]
KAZAN, Russia - No sooner had Sun Yang returned to the top of the podium with two victories at the world swimming championships than the Chinese star was enveloped in mystery.
Sun failed to show up for the 1,500-meter freestyle final Sunday night, creating chaos in the call room minutes before the race in which he was the two-time defending champion.
The 23-year-old swimmer later said a heart problem caused him to vanish.
Sun couldn't be found by the judges, and Lane 3 remained empty while Gregorio Paltrinieri of Italy, 800m freestyle runner-up to Sun on Friday, finally scooped up the gold with Sun's absence.
"Today I came here and during the warmup in the pool, I feel uncomfortable in the heart so I have to give up competition," Sun said through a translator at a news conference after the races ended.
The swimming superstar, who was topped by Paltrinieri to finish third in Saturday's heats, made an apology for his withdrawal, saying "I am sorry that I failed to compete in the 1,500m final."
"I had to pull out of the final as I felt a heart discomfort before the race," said Sun,winner of the 400m freestyle and finished second over 200m. "I didn't feel good after the 800m final but I really wanted to take part in the 1,500. So I came to warm up today, but after the warm-up, I was still not feeling good."
Earlier, FINA spokesman Pedro Adrega said Chinese team officials told him Sun felt a "chest sensation" during warmups.
"As there was not enough time to evaluate the situation or to check his medical condition, they decided to withdraw," he said.
Sun said he decided on his own not to swim the 1,500. He said he would return home Monday to arrange a medical exam of his heart.