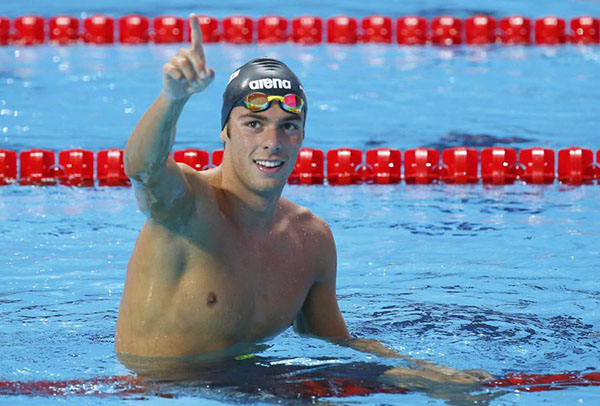 Gregorio Paltrinieri of Italy celebrates after winning gold in the men's 1500m freestyle final at the Aquatics World Championships in Kazan, Russia, Aug 9, 2015. [Photo/Agencies]
Sun's rivals were shocked by the strange turn of events.
"The judges were going crazy yelling, 'Where's Sun Yang? Where's Sun Yang?'" Paltrinieri said. "It was insane."
Paltrinieri took the lead from Cochrane at 500 meters and controlled the pace the rest of the way, touching in 14 minutes, 39.67 seconds. He finished second to Sun in the 800 and their rematch had been highly anticipated.
American Connor Jaeger took silver in 14:41.20 and Ryan Cochrane of Canada third in 14:51.08.
"I didn't know what to do or think," the 20-year-old Italian said. "It was really terrible without him."
The others in the call room wondered about Sun, too.
"I started saying, 'He's afraid of us and he's not coming,'" Paltrinieri said. "Then he really didn't show up."
Sun's absence threw off the Italian's race strategy.
"I've been training for two years on how to beat him, right down to the smallest details," Paltrinieri said. "I had to change everything."
 "I am happy for the winner," said Sun. "I also noticed his time. I think I can compete with him in Rio Games, and if I am in good form, I still think I will be the best."