China-Jersey Business Forum lauded in London
By WANG MINGJIE ( chinadaily.com.cn )
Updated: 2015-04-30 04:41:45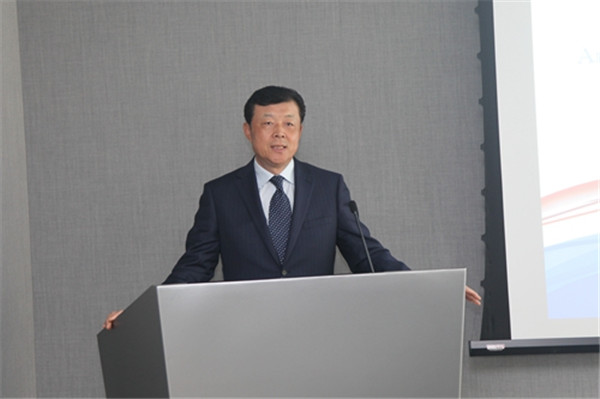 Liu Xiaoming, Chinese ambassador to the UK, gives a welcome speech at the China-Jersey Business Forum.[Provide to China Daily]
The first China-Jersey Business Forum, jointly organized by China Enterprises Association in Britain and Government of Jersey, was held this Tuesday at China Construction Bank's London office.
In a bid to explore the potential business partnerships between Chinese and Jersey enterprises, this forum was initiated by Liu Xiaoming, Chinese ambassador to the UK, after his visit to Jersey last year.
More than 60 delegations from both sides, including high-level government officials and business leaders, came together for in-depth discussions on financial services, tourism, food, logistics and biosciences.
Ambassador Liu said: "The China-Jersey Business Forum is an opportunity to dive into the river and set out to sea, and will help us see where China and Jersey can cooperate and what can be achieved.
"In China-UK trade and economic cooperation, there has been gratifying and exciting news," Liu said. "Trade was over 80 billion US dollars last year and continued to grow in the first quarter of this year.
"Jersey Island has a unique status and a comparative edge in industrial structure," Liu said. "There is no question Jersey will play a significant role in the overall relationship between China and the UK as well as bilateral trade and economic cooperation."
Senator Sir Philip Bailhache, Minister for External Relations of the Government of Jersey, said, "The friendship between Jersey and China has developed greatly over recent years and today's event is another example of the progress of that relationship."
Sir Bailhache shares Ambassador Liu's notion that the potential for cooperation between Jersey and China is enormous, saying: "China is an increasingly sophisticated and selective market which is concerned with quality. Quality has nothing to do with size. Quality can be found in a small country just as it can be found in a large one. In Jersey, quality is the form of everything we seek to do from agriculture to tourism to financial services," Sir Bailhache said.
"We think that the Jersey cow produces the richest and finest milk in the world, as it does, and our beaches are amongst the cleanest and the most beautiful in Europe, as indeed they are," said Sir Bailhache. He said he hoped the forum will lay a foundation for many fruitful engagements between Jersey and China in the future.
wangminjie@mail.chinadailyuk.com

We will not give up search, Li vows
International hunt for missing airliner continues after fruitless six-day search