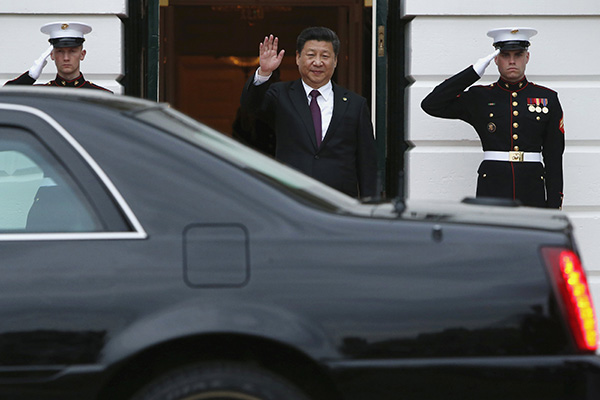 President Xi Jinping arrives for a working dinner with the heads of delegations attending the Nuclear Security Summit at the White House in Washington on Thursday. JONATHAN ERNST / REUTERS
China and the United States pledged on Thursday to step up their cooperation in nuclear security.
In a joint statement, the two countries said they will work together to foster a peaceful and stable international environment by reducing the threat of nuclear terrorism and said they would strive for a more inclusive, coordinated, sustainable and robust global nuclear security architecture.
They applauded the successful completion of the first round of bilateral discussions on nuclear security that wrapped up on Feb 20 in Stockholm.
"We plan to continue this dialogue on an annual basis, so as to intensify our cooperation to prevent nuclear terrorism and continue advancing Nuclear Security Summit goals," the statement said.
The statement was released after a meeting between President Xi Jinping and US President Barack Obama on the sidelines of the 4th Nuclear Security Summit, aiming to prevent nuclear materials from falling into the hands of terrorists.
China and the US both played an important role in the P5+1 nuclear deal with Iran last summer and in UN Security Council Resolution 2270 in early March on sanctioning the Democratic People's Republic of Korea for its nuclear bomb and missile tests.