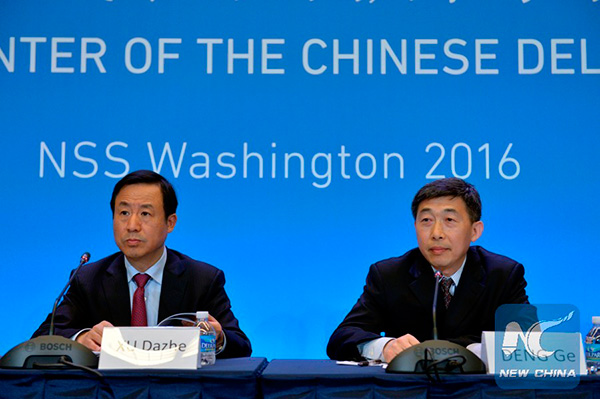 Xu Dazhe (L), head of China Atomic Energy Authority (CAEA) and Deng Ge (R), Direcor General of State Nuclear Security Technology Center, speak at a press conference during the fourth Nuclear Security Summit at the Walter E. Washington Convention Center in Washington, DC, April 1, 2016. [Photo/Xinhua]
WASHINGTON - China stands ready to make good use of a new nuclear security center to enhance bilateral and multilateral cooperation in the field of nuclear security, a Chinese nuclear energy official said Friday.
The Center of Excellence on Nuclear Security in Beijing, the largest of its kind in the Asia Pacific region, will provide a forum for bilateral and regional best practice exchanges, and serve as a venue for demonstrating advanced technologies related to nuclear security.
"We are more than happy to share our good and best practices in the capacity building of nuclear security with other countries," Xu Dazhe, chairman of China Atomic Energy Authority (CAEA) said at a press briefing at the fourth Nuclear Security Summit.
He added that China will use the platform provided by the Center to work even more closely with the International Atomic Energy Agency and provide systematic and comprehensive training services to relevant countries.
On Thursday, US Secretary of Energy Ernest Moniz spoke highly of the Center, saying with the capacity of training about 2,000 nuclear security staff every year, it is a "tremendous resource for China and the entire region."
China and the US agreed to establish the Center at the Nuclear Security Summit in Washington in 2010.
Under the agreement, the Center, located in the Fangshan District, Beijing, is run and administered by China, while the US provides nuclear-security equipment.
"This is an important outcome of China and the US deepening their cooperation in nuclear security," Xu said.
The CAEA will continue to work with its American counterpart to promote the development of the center on all fronts, Xu added.