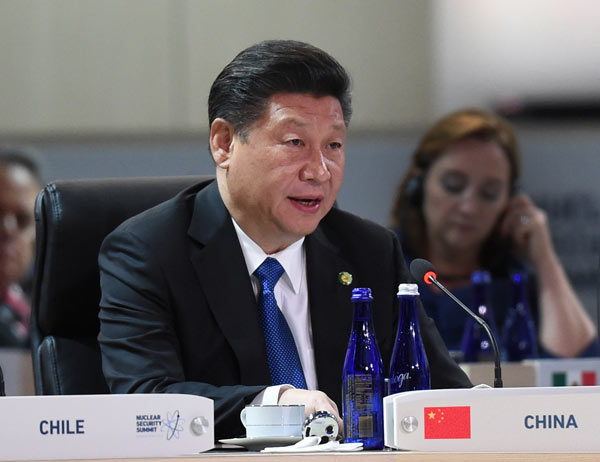 President Xi Jinping delivers a speech at the opening plenary of the fourth Nuclear Security Summit (NSS) in Washington on April 1, 2016. Provided to China Daily
WASHINGTON -- Chinese President Xi Jinping on Friday announced a slew of new measures to shore up the nuclear security of China, the country with the fastest growth of nuclear power worldwide.
Addressing the opening plenary session of the the two-day fourth Nuclear Security Summit, Xi said China has been committed to stepping up its own nuclear security while advancing international cooperation.
China, he said, will build a network for capacity building on nuclear security, by using the existing platforms, such as the Center of Excellence on Nuclear Security jointly built by Beijing and Washington in China, to carry out training of nuclear security professionals, exercises and exchanges regarding nuclear security technologies.
The president also pledged to support all countries in minimizing the use of the highly enriched uranium (HEU) according to their needs as long as it is economically and technologically viable.
China will promote the cooperation model for less use of HEU, Xi said, referring to his country's help for Ghana to convert an HEU-fueled research reactor to using low enriched uranium within the framework of the the International Atomic Energy Agency, the world's nuclear watchdog.
"We are willing to build on the Ghana model and help countries convert HEU-fueled miniature neutron source reactors imported from China under the principle of voluntarism and pragmatism," he told the plenary.
According to China's first white paper on nuclear emergency preparedness issued in January, as of the end of October 2015, the Chinese mainland had 27 nuclear power generating units in operation, with a total installed capacity of 25.5 gigawatts (GW), while another 25 units with a total installed capacity of 27.51 GW had been under construction.
The world's second largest economy plans to raise its installed nuclear power capacity to 58 GW with an additional 30 GW under construction by 2020 and build itself into a strong nuclear power country by 2030.