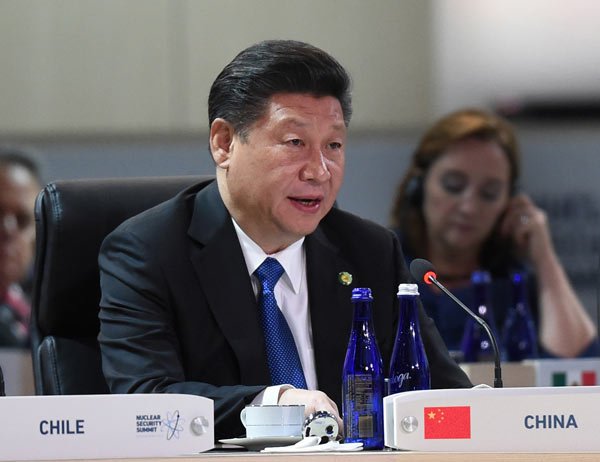 President Xi Jinping delivers a speech at the opening plenary of the fourth Nuclear Security Summit (NSS) in Washington DC, the United States, on April 1, 2016. Provided to China Daily
Chinese President Xi Jinping on Friday called for strengthening global nuclear security and promoting worldwide governance on nuclear security.
In a speech at the fourth Nuclear Security Summit in Washington, Xi said that countries should build international consensus on enhanced nuclear security, have zero-tolerance for nuclear terrorism with no discrimination, and give an effective response to new challenges and threats.
"As a Chinese saying goes, 'For a tree to grow tall, it needs to have deep roots'. And we have always wanted to find a solution that addresses the root cause of the problem," Xi said.
He called on countries to plan and implement nuclear security strategy, formulate mid- and-longterm development plans for nuclear security, improve nuclear security legislation and monitoring mechanism, and ensure that relevant work receives sufficient input and support, at the national level.
"All countries should participate in nuclear security affairs, and adopt an open and inclusive spirit to forge a community of shared future on nuclear security," he said.
The International Atomic Energy Agency can play a central role to coordinate and consolidate global resources for nuclear security, and the United Nations can continue to play an important role, he added.
Full text of Xi's speech at the Fourth Nuclear Security Summit