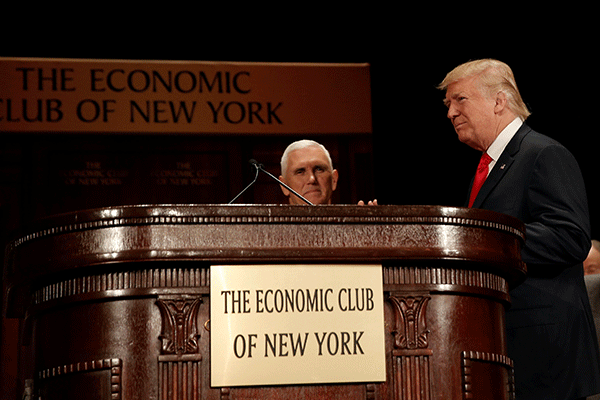 Republican presidential nominee Donald Trump is introduced by vice presidential nominee Indiana Governor Mike Pence to speak to the Economic Club of New York luncheon in Manhattan, New York, US, September 15, 2016. [Photo/Agencies]
WASHINGTON - US Republican vice presidential nominee Mike Pence's campaign on Saturday released a letter from Pence's doctor, claiming that the running mate of Donald Trump is in "excellent" health.
While Pence's father died of a heart attack, the letter noted that Pence, unlike his father who smoked cigarettes, neither smokes nor drinks alcohol and appears to have a "very good and strong heart."
"You are medically able to maintain your high level of professional work and your physical activity programs without limitations," said the letter written by Michael Busk of the St. Vincent Health, Wellness and Preventative care Institute in Indianapolis.
The campaign of Republican presidential nominee Trump also released a new brief note from Trump's doctor early this week, claiming that the candidate is "in excellent physical health."
According to the five-paragraph note written by Trump's doctor Harold Bornstein, Trump, 70, is six feet two inches (1.88 meters) tall and weighs 236 pounds (107 kg).
"Mr. Trump was hospitalized only once, as a child of 11 years old for an appendectomy," said the note, adding that there is no family history of premature cardiac or neoplastic disease.
Trump has annual physical exam in the spring of every year, and his last colonoscopy, chest X-ray and cardiac evaluation were results. Trump also takes a low dose aspirin and a statin, rosuvastatin, used for lowering cholesterol.
It was the second time since last December that the Trump campaign had released public documentation about Trump's health.
In his last note about Trump's health in December 2015, Bornstein declared "unequivocally" that Trump would be the "healthiest individual ever elected to the presidency."
It was later disclosed that Bornstein spent five minutes writing the note.
The physical fitness of presidential candidates was put in the limelight early this month after Democratic presidential nominee Hillary Clinton was videotaped being helped into a van while her feet appeared to be dragging on the ground during a 9/11 memorial in New York.
The Clinton campaign later acknowledged that the 68-year-old former US secretary of state had been diagnosed with non-contagious, bacterial pneumonia.