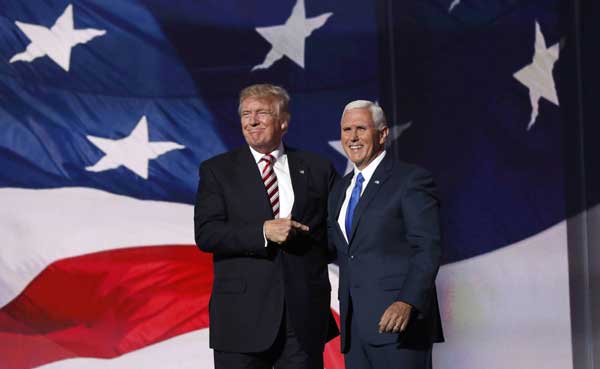 Republican US presidential nominee Donald Trump (L) greets vice presidential nominee Mike Pence after Pence spoke at the Republican National Convention in Cleveland, Ohio, US July 20, 2016. [Photo/Agencies]
CLEVELAND -- Indiana Governor Mike Pence formally accepted the Republican vice presidential nomination on Wednesday night at the 2016 Republican National Convention.
Following better-known party figures like Wisconsin Governor Scott Walker and former House Speaker Newt Gingrich, the Indiana governor took the stage at Quicken Loans Arena in Cleveland as the final speaker of the day, in an effort to build excitement for the Trump-Pence ticket.
"I accept your nomination to run and serve as vice president of the United States of America," Pence announced.
His speech was regarded by many as an introduction to the voter base still largely unknown outside of his home state.
Widely seen as a balance to the out-spoken, brash and egotistic Republican presidential nominee Donald Trump, Pence is calm, deeply religious and has extensive experience working in Capitol Hill.
It was believed that Trump picked Pence as his running mate to appease the Republican establishment and social conservatives in the increasingly divided party, even reluctantly.
Trump reportedly made the choice under pressure from political consultants, advisors and family, in an effort to bridge the gap between his campaign and many party establishment figures who were still unwilling to support him.
While making a well-scripted traditional speech covering major policy talking points including the economy, foreign policy, immigration, race and terrorism, Pence also attempted several humorous remarks, calling Hillary Clinton the "secretary of the status quo."
Pence's speech came after a speech from Texas Senator Ted Cruz, who refused to endorse Trump and told voters instead to "vote your conscience."
The move was again a clear showing of a divided party where Trump's campaign clashed with establishment conservatives.
Cruz left the stage with boos from the crowd, while Trump suddenly entered the venue and gave Cruz a thumbs-up, sarcastically venting his anger towards his former rival.