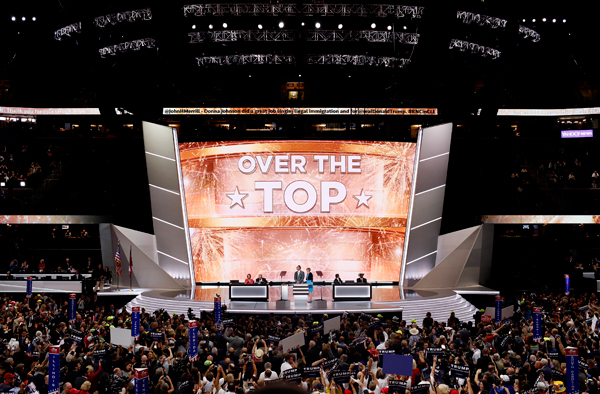 A screen reading "Over The Top" is displayed as Donald Trump, presumptive 2016 Republican presidential nominee, receives the number of votes needed to secure the party's nomination during the Republican National Convention (RNC) in Cleveland, Ohio, US, July 19, 2016. [Photo/VCG]
With his unabashed racist remarks and determined political incorrectness, Donald Trump is riding a wave of protest against political establishment toward the White House.
Both at home and abroad, the prospect of Trump becoming president of the United States fills many with alarm.
Such is the concern that even Republican Party colleagues have tried to get rid of him. Former president George W. Bush is reportedly worried nominating Trump might mean he is "the last Republican president" and spell the end of the GOP.
The US' allies, too, seem concerned about his unexpected momentum on the campaign trail. German Foreign Minister Frank-Walter Steinmeier, for one, warned Trump is a threat to the US and global security with his "politics of fear and isolation".
But like it or not, despite all the ridicule of his "Trumpiness", Donald Trump has defeated 16 party rivals and won the 2016 Republican presidential nomination.
Counterintuitive as it may appear, Trump's nomination should not come as a surprise, especially when it is considered in the global context of the so-called Great Rebellion against elitism, or the neo-liberal crony capitalist order.
In the words of Paul Ryan, Republican Speaker of the US House of Representatives, Trump has risen at a time "when men and women in both parties so clearly, so undeniably, want a big change in direction for America, a clean break from a failed system".
In other words, he has thrived on growing popular aspirations for change.
Barack Obama won his bid for the White House with a loud promise of change. He has delivered little of that.
So here comes Trump, pledging to make a break and "make America work again".
Trump's popularity may not be that anti-establishment, but it does have to do with many Americans' frustration with the status quo. As some have observed, his proposals resonate with those who feel left behind in the rush to globalization, and fed up with establishment politicians.
As in the result of the Brexit referendum in the United Kingdom, where former British prime minister David Cameron underestimated the polarization of society, the Trump phenomenon is a clarion call for seriously thinking about what establishment politicians have up till now taken for granted.
While such a "rebellion" has taken the relatively constructive form of voter choices in the UK and the US, it may become very different, perhaps damaging, in other places.