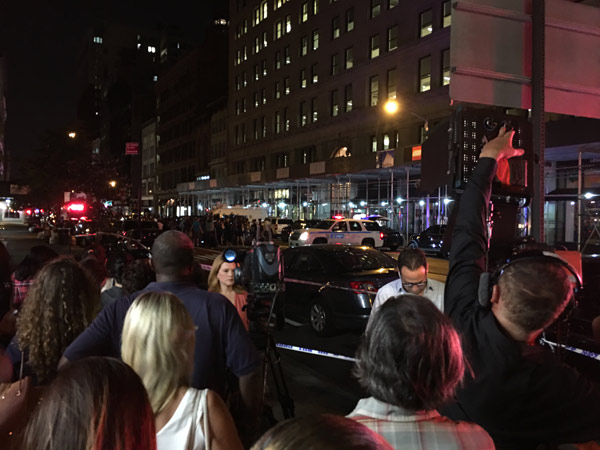 Onlookers stand behind a police cordon near the site of an explosion in the Chelsea neighborhood of Manhattan, New York, US, September 17, 2016. Photo by Ji Tao/chinadaily.com.cn
NEW YORK - New York City Mayor Bill De Blasio said Saturday that there is "no evidence at this point of a terror connection" to an explosion in New York Saturday evening, in which twenty-nine people were injured.
The mayor made the remarks at a news conference Saturday night, saying the real cause of the explosion is still under investigation.
"Early indications are that this was an intentional act," the mayor said, adding that "There is no specific and credible threat against New York City at this point in time from any terror organization."
Twenty-nine people were injured in the explosion in the Chelsea neighborhood in New York on Saturday evening.
Low Enforcement sources have reportedly said they found a device that appeared to be pressure cooker near the explosion site.
Ma Chao, consular of Consulate General of the People's Republic of China in New York, told Xinhua that there has been no report of injuries of Chinese citizens so far.
The Consulate General made a statement following the blast, saying they have made contact with the New York Police Department and will following the case closely.
"We are ready to provide assistance and protection for Chinese citizens when needed", said the statement.
Meanwhile, Hotel Chinese Association of USA, Inc, a non-profit organization based in New York, said in a statement following the explosion, adding that "every member should obey the city government's well-known saying 'See something say something' .
In order to ensure safety in hotels, anyone who sees a suspicious subject or activity in a hotel should report to supervisors or security guards, according to the statement.
The incident occurred just three days before the opening of 71st Session of the UN General Assembly in the UN Headquarters in New York. The host city of the world body is already on high alert to guarantee the security of visiting heads of state or government.
Right opposite to the UN Headquarters on Manhattan's 1st Avenue, four police officers on duty told Xinhua that they have been in position since 4 pm Saturday. But they said that they didn't get any special alert or instructions following the Chelsea blast.