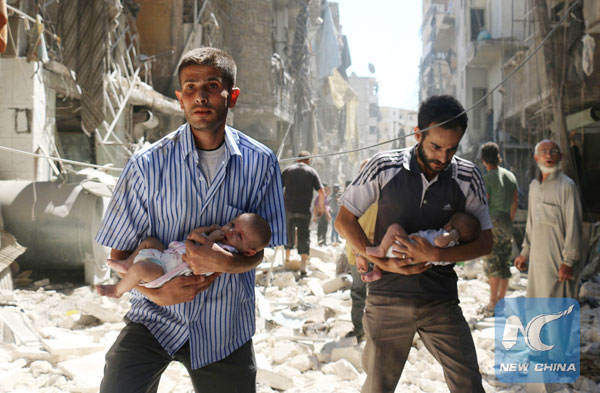 Syrian men carrying babies make their way through the rubble of destroyed buildings following a reported air strike on the rebel-held Salihin neighbourhood of the northern city of Aleppo, on September 11, 2016. [Photo/Xinhua]
DAMASCUS -- Syrian army announced a seven-day nationwide ceasefire as of Monday, state news agency SANA reported.
The regime of silence started as of 7:00 pm local time Monday and will last till Sept 19, the army said in a statement.
Still, the army said it reserves the right to respond to any breach by the rebels.
The military ceasefire declaration comes as part of the recent deal between superpowers.
The United States and Russia early Saturday announced a landmark agreement on a nationwide ceasefire in Syria, which would commence with the start of the Muslim holiday of Eid al-Adha.
The week-long truce also includes improving humanitarian aid access and a joint military operation against banned terrorist groups.
All attacks and airstrikes will be stopped and unobstructed access will be allowed to besieged areas, including the northern city of Aleppo, according to the truce.
The Syrian government said it welcomes the deal.