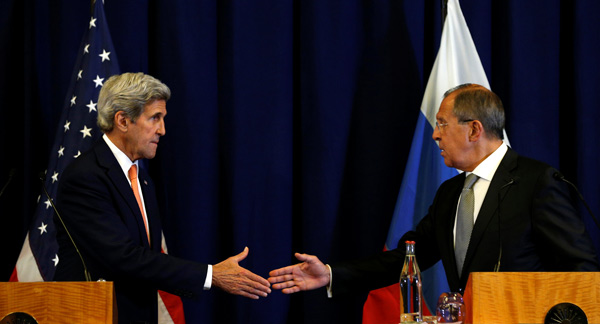 US Secretary of State John Kerry and Russian Foreign Minister Sergei Lavrov (R) shake hands at the conclusion of their news conference following their meeting in Geneva, Switzerland where they discussed the crisis in Syria, Sept 9, 2016. [Photo/Agencies]
GENEVA - US Secretary of State John Kerry and Russian Foreign Minister Sergey Lavrov reached on Saturday a landmark agreement which would see both countries greatly enhance cooperation in a bid to end the five-year-old Syrian conflict.
According to Kerry, who spoke first after day-long discussions with his Russian counterpart, the plan aims to rekindle a nation-wide cessation of hostilities beginning at sundown on Sept 12, allowing life-saving humanitarian aid to reach civilians in need.
If the truce is respected for seven days, Washington and Moscow are then expected to increase military cooperation, including working on strategies targeting terrorist groups operating on Syrian soil.
This would mean that opposition groups fighting Syrian President Bashar al-Assad alongside terrorist groups such as Nusra will have to distance themselves to avoid being targeted.
Al-Assad, who Lavrov said had agreed to the new plan, will also have to halt air force strikes against opposition strongholds.
"I want to emphasize, this step is absolutely essential, it is a bedrock of this agreement," Kerry highlighted.
If all steps are implemented correctly, the new plan is seen by both powers as having the potential to provide a turning point for Syria, a country at war since 2011.
"Today we have developed a significant, practical and concrete package of documents," Lavrov said.
"We cannot make these documents public because they contain rather sensitive and serious information," he added.