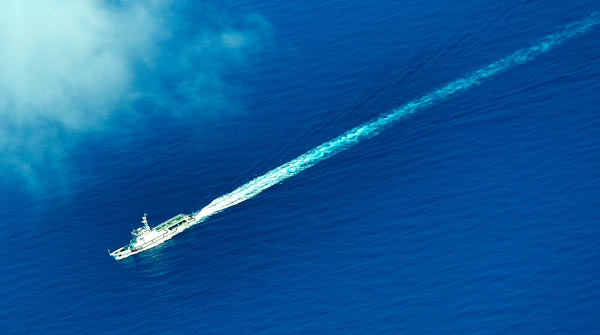 An aerial photo taken on Sept 25, 2015 from a seaplane of Hainan Maritime Safety Administration shows cruise vessel Haixun 1103 heading to the Yacheng 13-1 drilling rig during a patrol in the South China Sea. [Photo/Xinhua]
VIENTIANE - Certain countries should stop playing up the issue of freedom of navigation in the South China Sea as it has never been a problem, Chinese Defense Minister Chang Wanquan has said.
Speaking at the 6th China-ASEAN Defence Ministers Informal Meeting in the Lao capital on Wednesday, Chang noted that the traditional and non-traditional security threats of the region are still prominent while the awareness of regional community of destiny is increasing.
China will stick to the road of peaceful development, never ease its efforts to push for regional cooperation, never waver on its sincerity to resolve disputes peacefully and coordinately, and never shirk its responsibility to protect regional peace and stability, the Chinese defense minister stressed.
To further boost defense and security cooperation between China and ASEAN, the Chinese army hopes to hold a joint drill with the armies of the ASEAN countries in the South China Sea at an early date, including code on unplanned encounters at sea, the minister said.
China is willing to further boost the anti-terrorism cooperation between the two sides and push forward the exchange and cooperation between its Southern Theater Command and the armies of ASEAN countries, said Chang.
Regarding the so-called issue of freedom of navigation in the South China Sea, Rear Admiral Guan Youfei, director of the Office for International Military Cooperation of the Chinese Central Military Commission, said the issue itself is a false proposition.
Guan told the media after the meeting that over 100,000 vessels pass through the South China Sea each year, and none has claimed to have encountered any hindrance, trouble or danger. The situation points to the fact that freedom of navigation is never threatened in the South China Sea and therefore not a problem.
China has always respected and defended all countries' freedom of navigation and fly-over in the South China Sea and other places in the world according to the international law, he said.
As to the South China Sea arbitration initiated by the Philippines, Guan insisted that the Chinese government will not accept or participate in the case and will not recognize or implement the result whatever it might be.
Peace, development, cooperation and win-win have become the trend of the times, he said, calling on all concerned parties to follow the trend and play a constructive role in maintaining regional peace, stability, development and prosperity.
The 6th China-ASEAN defense ministers' Informal Meeting was held Wednesday after the 10th ASEAN Defense Ministers' Meeting.