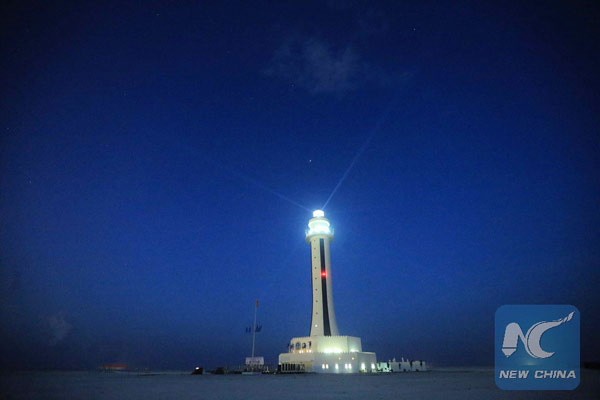 Photo taken on April 5, 2016 shows the lighthouse on Zhubi Reef of Nansha Islands in the South China Sea. [Photo/Xinhua] 
BEIJING - Interfering in the South China Sea dispute has demonstrated the United States' real intention of maintaining domination over global issues.
A number of military acts and diplomatic moves of the United States in recent months have laid bare its attempt to seek to preserve a footstep in the South China Sea dispute.
It increased close reconnaissance in this region, and its warships and military aircraft keep violating China's territorial sea and airspace in the name of "freedom of navigation or overflight."
China's construction in the region is aimed at strengthening its defense and civilian capabilities. It has not undermined and will not undermine freedom of navigation in one of the busiest international sea routes.
But why does the United States want to poke its nose into the region? It's not only about US strategic supremacy there, but also maintaining its status of dominating global hot issues, in a bid to face the fancied threat from China's rise.
In his article published in The Washington Post on May 2, US President Barack Obama said the United States, not China, should write rules. Even though the article was on the topic of the Trans-Pacific Partnership, it is clear evidence that making sure China abides by US-made rules has always been a major target in the country's China policy.
However, China's increasing say in the international rule-making process and growing influence on regional order establishment have made the United States uncomfortable, pricking its fragile ego as a hegemonic power.
Therefore, the key of Washington increasing military presence in the South China Sea and sowing discord among regional countries has been a show of force to demonstrate its predominance in regional and global affairs.
China is capable and confident of working with the countries directly involved to solve territorial disputes through peaceful negotiations. Meanwhile, China will take all necessary measures as needed in response to threats to regional stability.
And more importantly, China does not need the United States, an outside party, to solve the issue, nor does it need others to set the rules. It looks like the United States, the global sheriff, is going to lose face.
Washington needs to keep in mind the United States and China, as two major powers, have more to benefit from good interactions within the Asia-Pacific region.
As an effort to fulfill the two sides' commitment of building a new type of major-country relations that features win-win cooperation, the United States should stop meddling in the South China Sea issue, and meet China halfway to promote peaceful settlement.