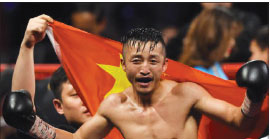 Zou Shiming celebrates after beating Natan Coutinho of Brazil on Jan 30 in Shanghai in a WBO world international flyweight title fight. Agencies
China has been making waves on the world sporting stage recently, whether it's the latest moves by its professional soccer league to attract world-class talent, or Yao Ming being elected to the basketball Hall of Fame.
Now the nation will be in the spotlight in the boxing ring when champion flyweight Zou Shiming makes his US professional debut on June 11 at Madison Square Garden in New York.
Zou, the World Boxing Organization International flyweight champion, will face a man slightly more than half his age in 19-year-old Jozsef Ajtai of Hungary in a non-title 10-round match.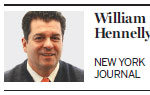 "I'm in good physical condition," Zou said at Shanghai Pudong International Airport leaving on a flight to the United States last week. "I will have one month training with Freddie Roach to prepare for the bout."
Roach has trained some great fighters, including Manny Pacquaio, Miguel Cotto, Oscar De La Hoya, Bernard Hopkins and Julio Cesar Chavez Jr.
Zou, who will turn 35 on Wednesday, has fought seven times in Macao. His last bout was in Shanghai, where he beat then-undefeated Natan Santana Coutinho of Brazil in an eight-round technical knockout on Jan 30.
The 110-pound pugilist from Zunyi, in Southwest China's Guizhou province, has a pro record of seven victories, one loss and two knockouts. He is a three-time Olympic medalist (gold in 2008 and 2012 and bronze in 2004) and is seen as the fighter who set the table for professional boxing in China. His only loss was to Thailand's Amnat Ruenroeng on March 7, 2015, by unanimous decision.
Top Rank CEO Bob Arum has said that a win in the US will lift Zou's chances of getting a world title fight in the fall. According to reports, Zou will be the first Chinese professional boxer to fight at the Garden.
At the 2008 Summer Olympics, Zou won China's 50th gold medal of the Beijing Games in the junior flyweight event, which also was China's first gold in Olympic boxing.
Zou took gold again at the 2012 Summer Olympics in London by beating Kaeo Pongprayoon, 13-10.
Zou turned pro after the 2012 Olympics, signing with Las Vegas-based Top Rank, and was trained by Freddie Roach. He made his pro debut on April 6, 2013, beating Eleazar Valenzuela by unanimous decision.
He won his second fight on Aug 10, 2013, a decision over Jesus Ortega. He then fought on the undercard of Manny Pacquiao vs. Brandon Rios on Nov 23, 2013, beating Juan Tozcano by unanimous decision.
Zou recorded his first pro knockout on Feb 22, 2014, beating Yokthong Kokietgym in the seventh round. On July 19, 2014, he won a unanimous decision over Luis de la Rosa for his first professional title.
The January fight in Shanghai was billed as "The Return of the King", the second event in the Chinese League of Fists organized by Top Rank and SECA. It marked Zou's return to the ring after the loss to Ruenroeng and was watched by 36.5 million viewers in China, according to boxing.com. Zou and his wife, Ying Ying Ren, are a popular couple in China.
"These events are growing the sport of boxing in China at a tremendous rate," Arum told boxing.com in February. Arum said that the "the voracious appetite of the fans and the sponsors proves" that the Chinese mainland "is very fertile territory for our sport. The potential is unlimited and should pay off big benefits in terms of exposure."
Contact the writer at williamhennelly@chinadailyusa.com