To many, Apple's announcement last week that it would invest $1 billon in China's car-hailing service Didi Chuxing was surprising. Perhaps an unfamiliar name in the US, Didi is Uber's biggest competitor in China, with around 14 million drivers in 400 cities.
For Uber Technologies, the San Francisco-headquartered startup, which is battling for dominance of China's sharing economy and car-hailing market, the move by Apple, which is located 44 miles south in Cupertino, is nothing but annoying.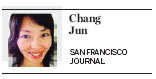 Five hours after this breaking news, Uber founder Travis Kalanick reacted with a tweet trying to make it lighthearted: girlfriend owns @apple shares which makes her a didi investor ...#Smh #ridesharewars #domesticissues #thanksALotTim.
Speculation on Apple's motives is already rife: Many believe that the Didi alliance shows Apple is desperate to revive iPhone sales in its second-largest market.
(Apple reported on April 26 that in its fiscal quarter that ended on March 26, sales in China fell 26 percentto $12.49 billion, due to weak demand for iPhones. In the same quarter a year earlier, Apple's China sales rose 71 percent.)
Others assume this marriage will enable Apple to access the rich data sources of Didi for its planned self-driving vehicles.
According to Apple CEO Tim Cook, "We are making the investment for a number of strategic reasons, including a chance to learn more about certain segments of the China market," Cook said in an interview with Reuters. "Of course, we believe it will deliver a strong return for our invested capital over time as well."
I believe investors will pump more money into key players to escalate the already white-hot car-hailing business in China.
So far, Uber has raised $9.01 billion in equity funding from 55 investors worldwide. Its valuation is reportedly around $65 billion.
The largest contribution that Beijing-based Didi Chuxing had received prior was from 14 investors, including Alibaba, SoftBank, Tencent Holdings and China Investment Corp, which put $3.42 billion into Didi during its seven rounds of fundraising.
On the business side, the competition is aggressive. Despite Uber's claim of rapid growth in China, Didi still has a majority share of the market partly because of its publicity strategy, which emphasizes Didi being local and made in China.
In 2015, Uber publicly complained that Didi was receiving unfair support from one of its investors, Tencent. Uber claimed that Tencent was blocking Uber on its WeChat app, which resulted in a competitive disadvantage for the company in China.
Didi says it completed 1.43 billion rides on its platform in 2015, and handles more than 11 million rides per day. The 4-year-old startup used to conduct money-burning marketing campaigns, including cash back for passengers, cash rewards for drivers and sponsored rides to attract business.
In February, Kalanick said Uber is profitable in the US, ahead of schedule. But Uber is losing more than $1 billion a year in China as it attempts to expand, although the company has completed 1 billion rides there.
By partnering with Baidu and its location-based services, Uber hopes to gain the upper hand in China.
Internationally, Didi announced a partnership last year with Uber's US rival Lyft, India's Ola and Southeast Asia's Grab to let customers book rides through an integrated service under one umbrella.
Contact the writer at junechang@chinadailyusa.com