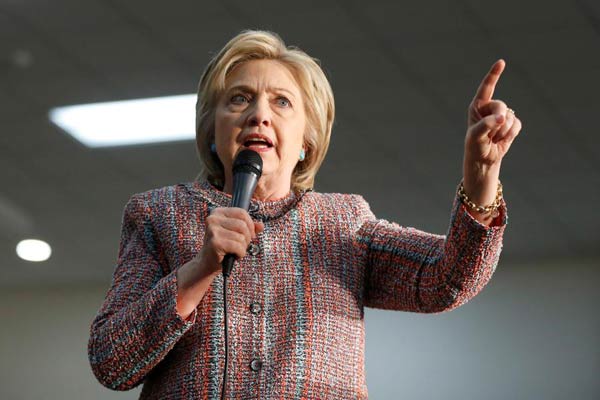 US Democratic presidential candidate Hillary Clinton speaks at the UFCW Union Local 324 in Buena Park, California, May 25, 2016. [Photo/Agencies]
WASHINGTON -- A report by the US State Department's independent watchdog on Wednesday faulted former US Secretary of State Hillary Clinton for violating US State Department's record-keeping policies, said local media.
The long-awaited report is slated for publication on Thursday, and the US daily The Hill reported on Wednesday after reviewing the report that the State Department's Office of Inspector General determined that Clinton never requested permission to use her private server, and it "would not" have been approved because of "the security risks in doing so."
The internal audit also faulted Clinton for not demonstrating to State Department security officials that her personal server or BlackBerry device "met minimum information security requirements," The Hill reported.
Meanwhile, the 83-page report also faulted Clinton for failing to comply with the State Department's record-keeping policies.
"At a minimum, Secretary Clinton should have surrendered all emails dealing with Department business before leaving government service and, because she did not do so, she did not comply with the department's policies that were implemented in accordance with the Federal Records Act," The Hill quoted the report as saying.
At a press conference in March, 2015, Clinton said she had exchanged about 60,000 emails from her private email account during her stint in the Obama administration, among which about half were personal and thus deleted. The Clinton camp turned over the other half, 30,000 emails in total, to the State Department in 2014.
After months of resistance to apologize for her use of the private email setup, Clinton relented last September and said it was a "mistake" and she was "sorry" for it.
Despite her showing of contrition on the issue, the controversy surrounding her use of the private email account and server for business-related communication continued to dog the Democratic presidential front-runner.