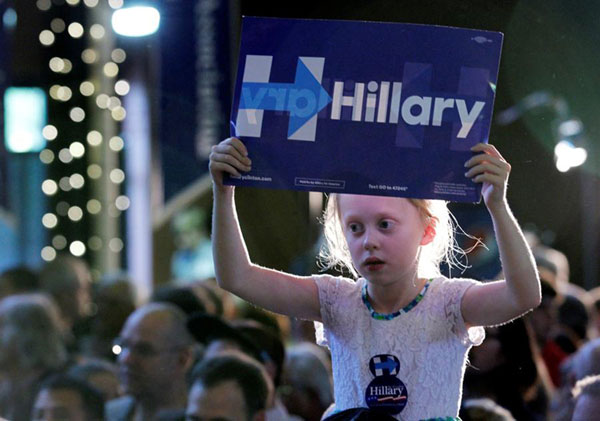 A young child shows her support for US Democratic presidential candidate Hillary Clinton during a campaign rally at Louisville Slugger Field's Hall of Fame Pavilion in Louisville, Kentucky, US, May 10, 2016. [Photo/Agencies]
WASHINGTON - US Democratic front-runner Hillary Clinton leads Donald Trump, the presumptive Republican presidential nominee, by four points among voters nationwide, according to a new poll issued Tuesday.
Clinton takes 42 percent to Trump's 38 percent in the Public Policy Polling (PPP) survey, as the presidential election is six months away, TheHill news daily reported.
"Hillary Clinton certainly is favored to win the presidential race this fall," said Dean Debnam, president of PPP. "But it might not be the giant blowout that it's been made to be in some quarters."
The poll found that Trump remains unpopular nationwide, with 61 percent viewing him unfavorably and 34 percent seeing him favorably.
Clinton fares little better, with 55 percent viewing her unfavorably and 36 percent seeing her favorably instead.
PPP conducted its latest sampling of 1,222 registered voters via landline telephone interviews and online surveys between May 6-9. It has a 3.2 percent margin of error.