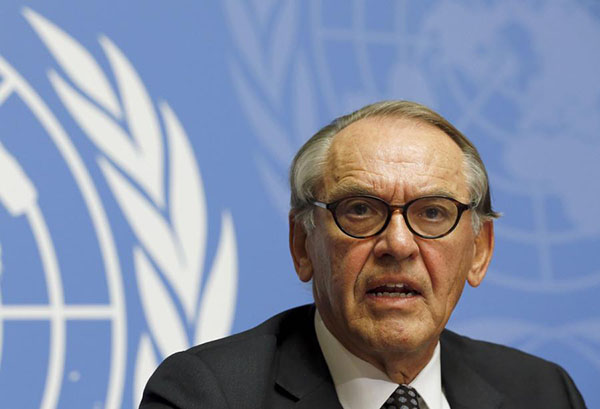 United Nations deputy secretary general Jan Eliasson addresses a news conference on the World Humanitarian Summit at the U.N. headquarters in Geneva, Switzerland, October 15, 2015. [Photo/Agencies]
ANKARA - As the first UN-backed World Humanitarian Summit (WHS) is about to open on Monday in Istanbul, Turkey's President Recep Tayip Erdogan is expected to criticize western inaction in handling refugee crisis at the meeting.
"We ask for a support for Syrian and Iraqi refugees who stay here. However, the West has still not understood the gravity of the situation," he lamented in a speech last week.
Erdogan noted that the funds provided by the UN and others to Turkey have amounted to only 450 million U.S. dollars so far.
Turkey provides shelter, free health care, employment benefits, schooling and vocational training for refugees largely on its own.
According to the government data, only 325,000 out of 757,000 refugee children at the school age are currently enrolled in some sort of educational facilities in Turkey.
Turkish Foreign Minister Mevlut Cavusoglu said recently that the WHS will provide a vital platform to address the challenges burdening the humanitarian system.
"There are simply too many lives at stake and inaction is not an option," he added.
"Now we are facing with the world biggest refugee crisis since World War II. Turkey is the major country suffering from it as there are 2.7million registered Syrian refugee populations here," said Aysen Ustubici, an expert with Migration Research Center in Koc University.
Having spent some 10 billion dollars on refugees since 2011, Ankara has long complained about the lack of robust financial support from global community to ease Turkey's burden.
Turkey made it clear that it wants to tap into the summit to raise the awareness on the refugee matters, and to mobilize further resources to tackle challenges stemming from irregular migrants.
"No nation is immune from humanitarian crises," the outgoing Turkish Prime Minister Ahmet Davutoglu told a UN event last September.
The meeting comes amid worries that the recent migrant deal between Turkey and the EU may collapse after Ankara refused to amend anti-terror laws in defiance of its earlier commitments to do so.
The deal, envisaged a return of migrants to Turkey in exchange of 6 billion euros (6.73 billion dollars) for Ankara, is being closely monitored by the UN High Commissioner for Refugees (UNHCR), which earlier expressed its concerns about the refugee protection safeguards under international law.
DEVELOPMENT ASSISTANCE
Another topic Ankara will raise during the summit is the strengthening of an integrated mechanism between humanitarian assistance and development tools.
Turkey believes it has made some successful progress on this in sub-Saharan Africa, especially in Somalia where Turkish humanitarian aids and development assistance made a difference in rebuilding the East African nation.
"Such joint use of humanitarian and development assistance can reduce the vulnerability and increase the resilience of local recipient actors in responding to humanitarian crises themselves," Naci Koru, deputy foreign minister of Turkey has said.
In nominal figures, Turkey is the third largest donor nation in the world. Ankara provided 3.6 billion dollars worth of development aid in 2014 and 3.9 billion in 2015, according to Turkish Development and Cooperation Agency.
Turkish media portrayed the summit as yet another important opportunity for the country to show its growing clout in the global scene.
Aksam daily, another pro-government daily, said President Erdogan will appeal to the conscience of the world in his speech at the summit.
"It is first step to come to a kind of conclusion that this type of issues requires what we call the global governance, which means that nation states, international organizations and NGOs should come together to create concrete solutions for the related problems," said Ahmet Icduygu, an academician of international relation department at Koc University.