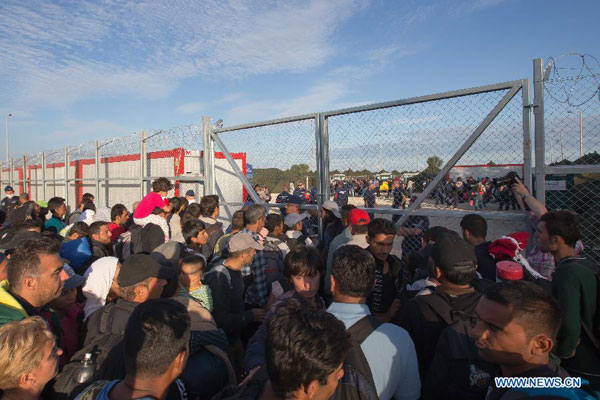 Illegal migrants wait to enter a newly built migrant camp near Roszke, a village on the Serbian-Hungarian border, Hungary, on Sept. 7, 2015.[Photo/Xinhua]
BEIJING - Europe is experiencing the most severe refugee crisis since the Second World War, with 80 percent of the refugees coming from Syria.
Following are basic facts about the crisis.
-- Refugees in Europe 
According to the Parliamentary Assembly of the Council of Europe, up to 300,000 refugees, most of whom come from Syria, Libya and Iraq, arrived and traveled through Europe from January to August.
The majority of them have landed in Greece and Italy, with the former receiving more than 111,300 refugees and the latter around 30,000 Syrian refugees so far this year.
At least 850,000 more refugees are expected to cross the Mediterranean to arrive in Europe over the next two years, 400,000 of whom will arrive this year, and 450,000 or more in 2016, according to the UN High Commissioner for Refugees (UNHCR).
The International Organization for Migration estimates that about 2,600 refugees died while trying to cross the Mediterranean, many of whom departed from Libya.
-- Refugees in other places
Among the asylum seekers, more than 4 million came from Syria, a country torn by a civil war which broke out in 2011, with only 12 percent of them living in formal refugee camps.
Most of the Syrian refugees are taking refuge in Turkey (1,938,999), Lebanon (1,113,941), Jordan (629,266), Iraq (249,463), and Egypt (132,375).
-- Causes of Europe's refugee crisis 
Among other factors, the refugee crisis is mainly the making of some European countries and the United States through direct or indirect military interfering in other countries' affairs.
Most of refugees are from war-torn countries like Syria, Libya, Yemen and Iraq, where violence has been raging after Western intervention in their domestic affairs.
Their volatile situation has been compounded by widespread unemployment, inflation, a lack of daily necessities such as electricity and water, and a strong sense of insecurity.
People living in those countries hope to take refuge in neighboring countries or European countries for a better life.
Take Syria as an example. According to the UNHCR, an escalation of violence in Syria over the last few months together with a continued deterioration of living standards is continuing to drive thousands to flee their homes.
Violent conflicts between government troops and West-supported opposition forces have shown no sign of ending though they have lasted for years. The West has been pushing for a change of regime in the Middle East country.