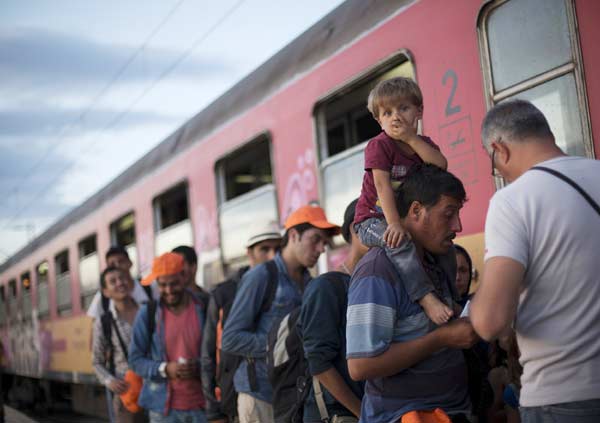 Migrants board a train after crossing the Macedonian-Greek border near Gevgelija, Macedonia, September 6, 2015. [Photo/Agencies]
BERLIN/WASHINGTON -- European politicians and US aid groups have called for US policy changes to take in more refugees in wake of the biggest refugee crisis for Europe since the end of WWII.
The photo of a Syrian toddler washed ashore after being drowned along with his five-year-old brother and mother in an ill-fated journey to Greece had stirred the hearts of people around the world last week.
Media and netizens are questioning what has turned the carefree toddler to another heart-sinking victim in the worsening crisis of migrating refugees around the Mediterranean.
According to the International Organization for Migration, 2,500 migrants have died so far this year while attempting to reach Europe by boat.
US refugee advocacy groups have recently been receiving an influx of emails from Syrian refugees asking for their help in getting to America.
"The emails are desperate, begging, pleading," Stacie Blake, director of Government and Community Relations for the US Committee for Refugees and Immigrants, told BuzzFeed News.
Blake said he received 10 mails in a day, which she said "may not seem like a lot, but if you think of the person who has the wherewithal, internet access, and the English to track me down through the website and ask for myself, it's pretty astonishing."
"But the government isn't letting us help them," said Blake.