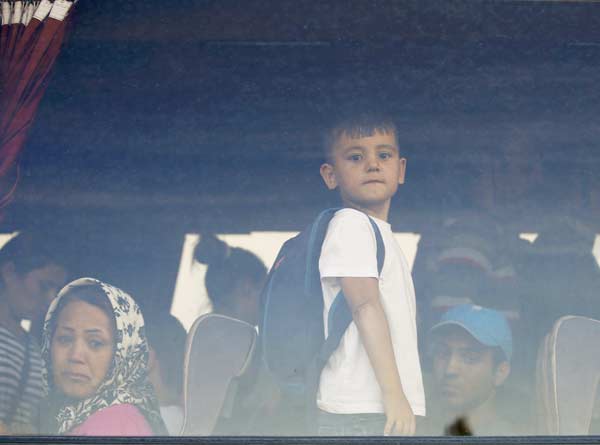 Migrants look from behind a bus window at Bicske railway station, Hungary, September 4, 2015. [Photo/Agencies]
GENEVA -- The International Olympic Committee (IOC) announced a $2 million fund that will be made available to National Olympic Committees for programs focused on refugees on Thursday, according to its official website.
"We have all been touched by the terrible news and the heartbreaking stories in the past few days. With this terrible crisis unfolding across the Middle East, Africa and Europe, sport and the Olympic Movement wanted to play its part in bringing humanitarian help to the refugees. We made a quick decision that we needed to take action and to make this fund available immediately," said the IOC President Thomas Bach.
"We have a long term relationship with the United Nations and with the UNHCR and we draw on their help and expertise. We know through experience that sport can ease the plight of refugees, many of them young people and children, be they in the Middle East, Africa, Europe or in other parts of the world. Our thoughts are with the many refugees risking their lives and the lives of their families to escape danger."
NOCs and other interested parties will be asked to submit projects to the IOC for funding. The fund itself is made up of one million dollars from the IOC and a further one million from Olympic Solidarity.