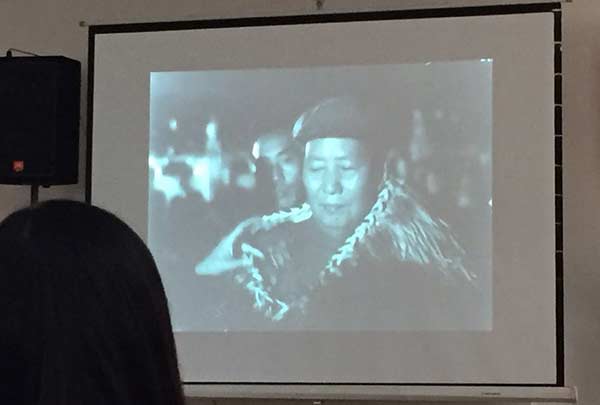 Mao Zedong wears Maori cloak in the documentary Inside Red China. [Photo by Liu Wei/chinadaily.com.cn]
The late Chairman of China Mao Zedong in a Maori feather cloak in 1957 suggests China and New Zealand had forged a good friendship even before establishing diplomatic relations.
The rare image of Mao came to light in a black and white documentary Inside Red China screened in New Zealand Embassy in Beijing on Friday.
The 25-minute film made by New Zealand's independent directors Rudall and Ramai Hayward shows China back in 1950s.
The filmmakers visited Guangzhou, Shanghai, Beijing and Wuhan to shoot the documentary.
They recorded interviews with a foreign businessman, officials within the Christian churches as well as spoke to ordinary Chinese and captured daily life through the street scenes in China's cities and the historic construction of the Wuhan Bridge across the Yangtze River.
John McKinnon, New Zealand's ambassador to China, said: "The film is quite candid and a valuable vehicle for us to know China vividly back then in context of Cold War and a link between China and New Zealand."
The scene of Ramai draping the Maori cloak over Chairman Mao's shoulders puts cultural exchanges and memories between the two nations on record.
Ramai reportedly said to Mao: "We are the smallest nation in the world, giving this gift to the largest nation in the world."
Mao replied: "The smallest is as great as the largest."
Ambassador McKinnon said he tried to find the cloak after watching the film and finally traced it in the National Museum of China.
He considered finding the cloak is one of his achievements as New Zealand's ambassador to China.
The cloak was loaned to New Zealand for several months in a ceremony in April 2013 as a historical testimony of China and New Zealand friendship.