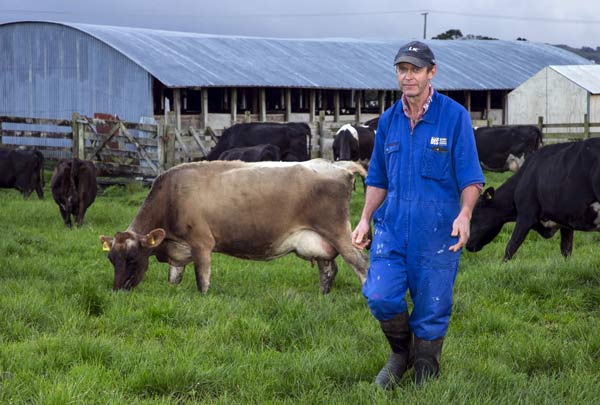 Dairy farmer Keith Trotter stands in a field near milking sheds amongst his herd of cows on his farm in the town of Matakana, located north of Auckland, New Zealand, Sept 24, 2015. [Photo/Agencies]
WELLINGTON - The number of dairy cattle in New Zealand fell for the first time in nine years last year as international milk prices plunged, the government statistics agency said Wednesday.
The dairy cattle population fell by 213,000 to 6.5 million in 2015, according to the Agricultural Production Survey by Statistics New Zealand.
"The dairy cattle number is now similar to the level back in 2013," business indicators senior manager Neil Kelly said in a statement.
"This reduction was caused by an increase in the number of cows slaughtered and was against a backdrop of declining milk solid payouts."
The drop in cattle numbers followed nine years of increases, reaching a record 6.7 million in 2014.
The survey also showed that New Zealand had 29.1 million sheep, 3.5 million beef cattle, and 900,000 deer at the end of June last year.
"Sheep numbers have continued to decline. There are now just over six sheep for every New Zealander, down from 13 sheep per person 20 years ago," Kelly said.