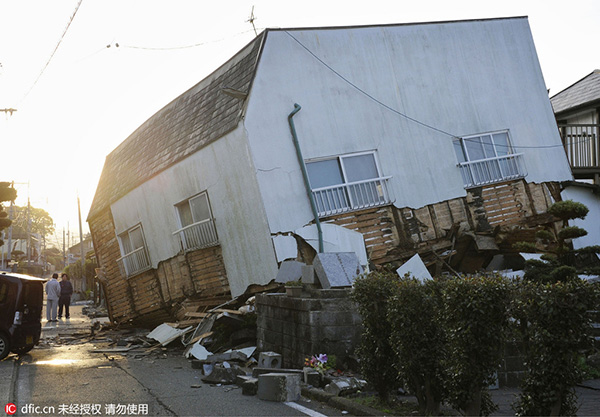 A house is pictured destroyed in a series of earthquakes in Mashiki, Kumamoto prefecture, southwestern Japan on April 15, 2016. [Photo/IC] 
TOKYO - A strong earthquake hit southwestern Japan on Thursday, bringing down some buildings, killing at least nine people and injuring hundreds, local media said, but the nuclear regulator reported no problems at power plants.
The Japan Meteorological Agency (JMA) revised the first quake from 6.4 magnitude to 6.5. The quake was logged at level 7 of the Japan seismic intensity scale of 7 in Mashiki town at the Kumamoto prefecture, marking the first since the devastating earthquake in March 2011.
The epicenter of the M6.5 quake was detected at 32.7 degree north latitude and 130.8 degree longitude with a depth of 11 km, said the JMA.
There was no tsunami warning, but at least one person was killed after being crushed by a collapsing building, local media reported. More than 400 people were taken to hospital.
The Kyodo news agency said some 44,400 people had also been evacuated and more than 100 aftershocks had been recorded since the quake, which struck shortly before 9.30 pm local time.
Footage from public broadcaster NHK showed firefighters tackling a blaze in a building in Mashiki, a town of about 34,000 people near the epicenter of the quake.
"We will do our utmost and carry on with life-saving and rescue operations throughout the night," Japanese Prime Minister Shinzo Abe told reporters.