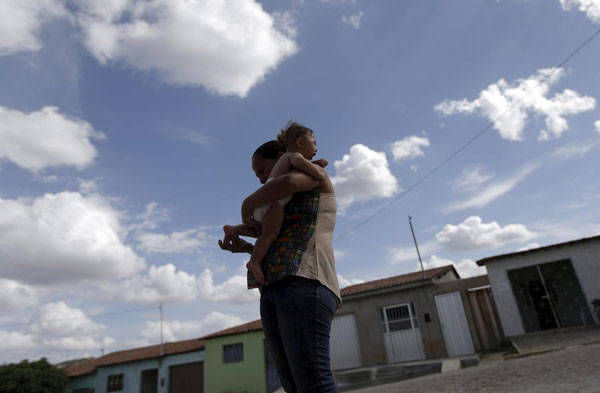 Josemary da Silva, 34, holds Gilberto, five months old, who is her fifth child and born with microcephaly, in front of her house in Algodao de Jandaira, Brazil , February 17, 2016. [Photo/Agencies]
BEIJING - US health authorities have confirmed that the Zika virus can cause microcephaly and other severe fetal brain defects, while more efforts are needed to curb the outbreak worldwide.
PROGRESS IN SCIENTIFIC RESEARCH
The US Centers for Disease Control and Prevention (CDC) said in a statement Wednesday that it reached the conclusion after "careful review of existing evidence" using established scientific criteria.
"This study marks a turning point in the Zika outbreak. It is now clear that the virus causes microcephaly," said Tom Frieden, director of the US agency.
The conclusion, published in the New England Journal of Medicine, means that a woman infected with Zika during pregnancy has an increased risk of having a baby with these health problems, the statement said.
The conclusion does not mean, however, that all women who have Zika virus infection during pregnancy will have babies with problems, it added.
Frieden said the CDC is conducting further studies to determine whether microcephaly, or abnormally small heads, is only "the tip of the iceberg of what we could see in damaging effects on the brain and other developmental problems."
Meanwhile, Brazilian scientists have found that babies born with microcephaly have "extremely severe" brain damage, "indicating a poor prognosis for neurological function," according to a study published in the British Medical Journal.
A team of doctors from Brazil's Recife, a city at the center of the Zika outbreak, analyzed the types of abnormalities and lesions in brain scans of 23 babies diagnosed with a congenital infection associated with the Zika virus in Brazil.
The babies had either computed tomography (CT) scans or magnetic resonance imaging (MRI) scans and seven of them had both types of scans.
The brain abnormalities included brain calcification, a condition in which calcium builds up in the brain.
Other signs included malformations of cortical development, decreased brain volume, underdevelopment of the cerebellum and ventriculomegaly -- a condition where the brain cavities are abnormally enlarged.
There is now no vaccine or medicine available to fight the Zika virus.