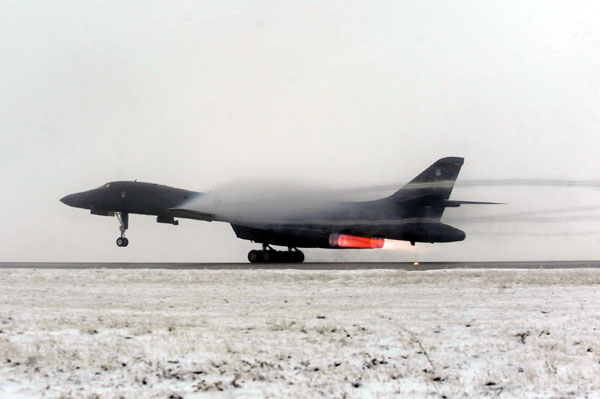 A B-1B Lancer strategic bomber takes off from Ellsworth Air Force Base, in support of Operation Odyssey Dawn in Libya, in this US Air Force file handout photo dated March 27, 2011.[Photo/Agencies]
China has expressed concern about a report that the US is in talks to base long-range bombers in Australia.
"Peace, cooperation and development have become a major trend of the region that all people are aspiring for," Foreign Ministry spokesman Hong Lei told the daily news briefing in Beijing on Wednesday. "Cooperation between relevant countries should focus on safeguarding regional peace, stability and development. Any bilateral cooperation must not jeopardize a third party's interest."
Australia news media on Tuesday quoted US Pacific Air Forces Commander Lori Robinson as saying that B-1B bombers and tanker aircraft would regularly rotate through northern Australia rather than exercise in Australia on an ad hoc basis.
While Robinson did not talk about the motivation, the move is being widely interpreted as relating to the tension in the South China Sea.
On Wednesday morning in Beijing, Chinese Foreign Minister Wang Yi held a phone conversation with his US counterpart, Secretary of State John Kerry. While Hong only said that they talked about the bilateral relationship and the current situation on the Korean peninsula, he noted that Wang stressed to Kerry that when dealing with the current situation on the Korean peninsula, China's reasonable and legitimate strategic security concern and interests must not be damaged.
That is a direct indication of China's concern of talks between the US and the Republic of Korea over the possible deployment of a THAAD (Terminal High Altitude Area Defense) anti-ballistic missile system in the Republic of Korea in response to the recent nuclear and missile test conducted by the Democratic People's Republic of Korea.
China and Russia protested that the THAAD system could pose a threat to their missile arsenals, which fall into the THAAD's operation radius.
Australian news media reported on Wednesday that the government has played down the report about the B-1B bomber rotation in Australia's Northern Territory.
Neither Prime Minister Malcolm Turnbull nor Foreign Minister Julie Bishop denied this would happen or commented on a possible reaction from China, the Australian Associated Press reported.
It quoted Turnbull as saying that US forces rotated through Australia all the time under the close defense relationship between the two countries, and Bishop said Australia was transparent about arrangements with partners and allies and has held open and frank discussions on strategic issues with China.
US forces have stepped up their training in Australia under the enhanced Australia-US defense cooperation program announced by former prime minister Julia Gillard and US President Barack Obama in November 2011.
That includes growing numbers of US Marines who use Northern Territory military training areas and US combat aircraft, including B-52 bombers flying from RAAF bases at Darwin and Tindal and dropping real bombs on the Delamere air weapons range. B-1B Lancer bombers, which can carry nuclear weapons, have visited Australia previously, including to participate in air shows, according to the AAP.
Tension in the South China Sea rose last week when USS Stennis Carrier Strike Group of five US Navy vessels conducted a five-day high-profiled operation in the South China Sea, an operation closely monitored by the Chinese People's Liberation Army Navy.
chenweihua@chinadailyusa.com