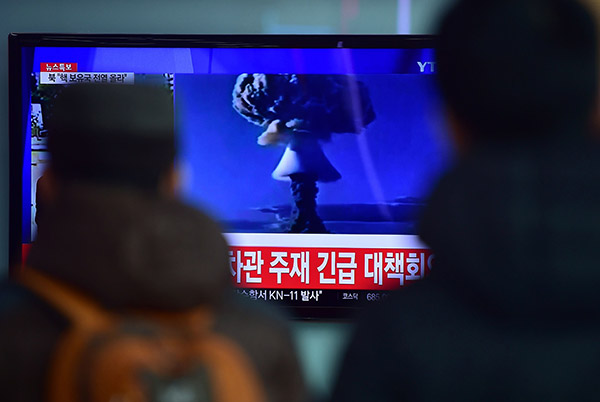 People at a railroad station in Seoul watch a news report after the Democratic People's Republic of Korea announced that it had conducted its first hydrogen bomb test. JUNG YEON-JE/AFP
PYONGYANG - The Democratic People's Republic of Korea (DPRK) on Monday warned of preemptive nuclear attacks at the United States and the Republic of Korea (ROK) as their joint military exercises are scheduled to kick off Monday.
The DPRK's National Defense Commission said in a statement carried by the state media KCNA that the army and people of the DPRK "will make military counter-action for preemptive attack" and "launch an all-out offensive" to cope with joint military drills conducted by ROK and US troops.
The DPRK's military counter-action will be "more preemptive and offensive nuclear strike" to cope with the enemies' "most undisguised nuclear war drills aimed to infringe upon the sovereignty of the DPRK," the statement stressed.
Preemptive nuclear strike "is to be made in the order specified by the Supreme Command of the Korean People's Army in its crucial statement," it added.
The Supreme Command of the KPA has threatened in its crucial statement that the first attack target will be the ROK's presidential office Chongwadae and the second target be the White House and the US mainland.