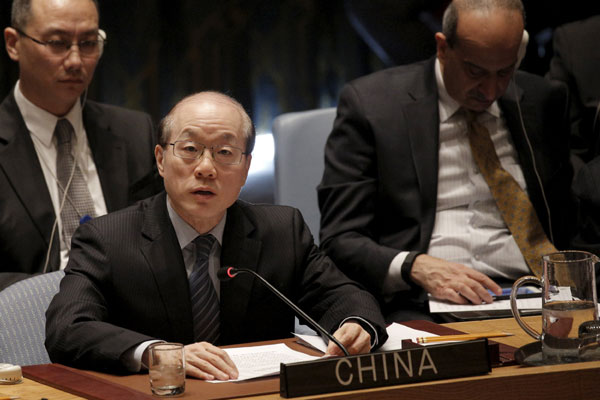 Liu Jieyi, China's permanent representative to the United Nations, addresses the United Nations Security Council on the DPRK at the United Nations Headquarters in New York March 2, 2016.[Photo/Agencies]
Just hours after the United Nations Security Council approved the toughest sanctions on the Democratic People's Republic of Korea in two decades, Pyongyang responded by firing "short-range projectiles" into the sea.
Pyongyang has been angrily defiant each time the Security Council has passed a resolution mandating sanctions. Resolution 2270 (2016) is the fifth since the DPRK conducted its first nuclear test in 2006.
It will be angrier this time, because the new sanctions put a tighter pinch on Pyongyang's nuclear-missile ambitions. They are meant to do so. More importantly, the 15 members of the Security Council spelt that out in one voice.
Judging from its past pattern of reactions, the vengeful Pyongyang may get even more aggressive in its nuclear-missile pursuits and threats to use force. What happened on Thursday morning, therefore, may well be the start of an unpredictable spiral.
But that is something Pyongyang should make every effort to avoid, as it would be a self-destructive course.
Instead of bogging itself down in harmful tit-for-tat actions, Pyongyang needs to show a cool head and make a new start.
Severe as it is, the latest sanctions regime does not aim at the collapse of the DPRK. Nor does it seek adverse humanitarian consequences.
The well-balanced text of Resolution 2270 is reminiscent of the exhaustive bargaining sessions over how to make sure the sanctions are tailored specifically to the nuclear-missile programs.
The message here is simple, but unmistakable: Nuclearization of the Korean Peninsula will not be allowed.
Its nuclear-missile programs are a security threat across Northeast Asia. Its repeated threats of nuclear annihilation worsen tensions, consequently its own security environment.
Its current diplomatic isolation, therefore, is of its own creation.
Pyongyang does not have many options under the new UN resolution. But it does have a very easy way out: Let go of its nuclear-missile program. Sit down and talk.
The sanctions are targeted specifically at bringing Pyongyang back to serious and credible negotiations.
Even if it does not, the international community will not give up until denuclearization is achieved.