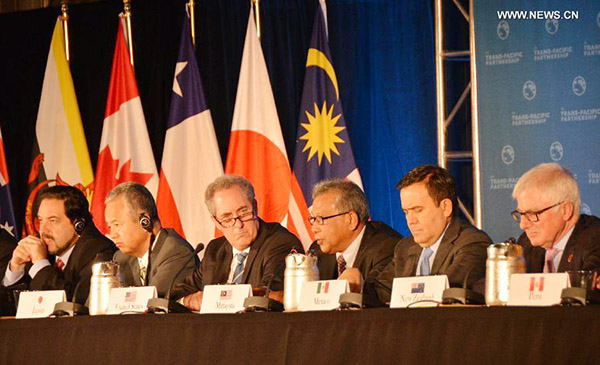 Trade ministers of the United States and 11 other Pacific Rim countries attend a press conference after negotiating the Trans-Pacific Partnership (TPP) trade agreement in Atlanta, the United States, on Oct. 5, 2015. [Photo/Xinhua]
US President Barack Obama must be desperate to push the Trans-Pacific Partnership through Congress during his remaining 10-plus months in office. "Our concern there was that China was the 800-pound gorilla, and if we allowed them to set trade rules out there, American businesses and American workers were going to be cut out," Obama said at the National Governors Association reception on Monday, in response to a US trade policy question raised by Virginia Governor Terry McAuliffe.
That was part of the scare tactics Obama has been using for at least the past two years. He has been reiterating that, "we can't let countries like China write the rules of the global economy. We should write those rules".
Concluded on Oct 5 last year and signed on Feb 4 this year, the TPP is yet to be ratified by the legislatures of the 12 signatory countries. And it is facing stiff opposition from people across the social and political divide even in the US. In fact, many lawmakers in Obama's Democratic Party are opposed to the TPP.
Former US trade representative Rob Portman, now a Republican senator from Ohio, also opposes the trade deal. And while leading Republican presidential candidates Donald Trump, Marco Rubio and Ted Cruz, and their Democratic counterparts Bernie Sanders and Hillary Cliton may have huge differences on other issues, they are unanimously opposed to the TPP.
Obama, though not running for the 2016 presidential election, has never stopped talking like he is still on the campaign trail. His inflammatory campaign-like rhetoric is humiliating to the Chinese and damaging to bilateral relations, which he often describes as one of the most consequential in the 21st century.
Many ordinary Chinese would ask why their country, being the world's largest trading nation, the second-largest economy and home to one-fifth of humanity, should not be on the table in setting global rules. Isn't that discriminatory?
Governors of US states are often the most avid about boosting trade and investment ties with China. Many of them have visited China multiple times on trade missions. A US-China Business Council report shows that China was among the top three export markets for 39 US states in 2014. Another report, released by the National Committee on US-China Relations and the Rhodium Group last May, shows Chinese companies are operating in 340 of 435 US congressional districts, directly employing more than 80,000 US citizens.
There is no doubt that Obama's remarks at the governors' reception were meant to sow the seeds of misunderstanding and distrust toward China, just as he has done in his several nationwide speeches.
David Lampton, a professor at Johns Hopkins University's School of Advanced International Studies and a noted scholar on China, says he was somewhat dismayed that Obama so frequently used words like "we can't let China write trade rules of the 21st century". Lampton asked at a seminar on Monday: "Why he (Obama) said that and what's his motivation?"
Scott Kennedy, deputy director of Freeman Chair in China Studies at the Center for Strategic and International Studies, believes the US should stop seeing itself as protector of existing rules "because if you look at the international system, there are lots of rules that are good, and there lots of rules that stink". He adds that the US should stop its knee-jerk "resistance" to Chinese initiatives.
US politicians like Obama keep spreading canards that nothing from China is good and thus everything Chinese must be resisted. But Kennedy says maybe they're good, helpful and could help improve the system.
It's time Obama stopped pushing for the TPP at the cost of the vital China-US relations.
The author is deputy editor of China Daily USA. chenweihua@chinadailyusa.com