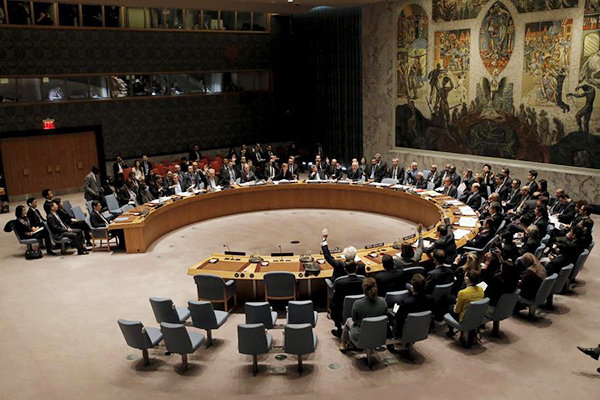 The United Nations Security Council votes to approve a resolution that would dramatically tighten existing restrictions on the Democratic People's Republic of Korea at the United Nations Headquarters in New York March 2, 2016. [Photo/Agencies]
UNITED NATIONS - The UN Security Council adopted a resolution on Wednesday that imposes a set of new sanctions on the Democratic People's Republic of Korea (DPRK), while calling for a resumption of the long-stalled six-party talks.
The resolution, in response to DPRK's nuclear test on Jan. 6 and a satellite launch on Feb 7, is aimed at curbing the country's ability to develop its nuclear and missile programs.
In a statement, the council condemned in the strongest terms the nuclear test on Jan 6 and the satellite launch on Feb 7, which it said used ballistic missile technology banned by previous UN resolutions. Pyongyang insisted it was a peaceful satellite launch.
The council also reiterated its demands that the DPRK abandon all nuclear weapons and other nuclear programs as well as weapons of mass destruction and ballistic missile programs.
Wednesday's resolution includes a ban on all exports from the DPRK of coal, iron, iron ore, gold, titanium ore, vanadium ore and rare earth metals. It also puts out a ban on supply of all types of aviation fuel, including rocket fuel, to the DPRK.
Moreover, it requires member states to inspect all cargoes going to and from the DPRK. Previous sanction measures only required states to inspect cargo when there was reason to believe that it contained prohibited items.
The resolution imposes an asset freeze on all funds and other economic resources owned or controlled, directly or indirectly, by the DPRK government or by the Workers' Party of Korea, if found to be associated with the country's nuclear or ballistic missile programs or any other prohibited activities.
Noting "the importance of maintaining peace and stability on the Korean Peninsula and in northeast Asia at large," the resolution expresses the council's commitment to a peaceful, diplomatic and political solution to the situation.
The resolution also calls for the resumption of the six-party talks, a multilateral dialogue mechanism brokered by China in efforts to seek a peaceful solution to the nuclear issue on the Korean Peninsula. It also involves the United States, Russia and Japan, the DPRK and the Republic of Korea.