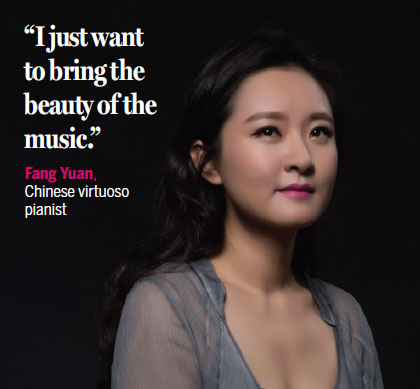 As the old saw goes: How do you get to Carnegie Hall? Practice, practice, practice.
Which is exactly what Chinese virtuoso pianist Fang Yuan was doing a few blocks from Carnegie Hall the day before her first solo appearance there on Thursday.
How did she feel? "Excited," she said with a laugh.
She was originally asked to perform there on Oct 1, China's "Fourth of July", (as a fill in) on a month's notice, but the gig got tangled in the red tape of an artist visa and postponed until tonight.
Audiences are in for a treat. Last October, in lieu of coming to the US, Fang celebrated National Day by playing The Yellow River Concerto with the China National Orchestra and the CPA Orchestra.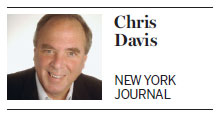 "I thought maybe I could bring the piece in solo piano version to let more people know about it," she said. "A lot of people haven't heard the piece."
The Yellow River Concerto - which is scored for full orchestra, chorus and piano soloist - traces its origins back to the eight-movement Yellow River Cantata. Composed by Xian Xinghai in 1939, the cantata collected folk melodies and river images that served as a rallying anthem to bolster morale during the Chinese People's War of Resistance against Japanese Aggression.
Over the years, the musical material went through adaptations to suit each new generation of listeners. In the late 1960s, pianist Chengzong Yin and a group of five composers reconfigured the work into a four-movement piano concerto, with a final movement that is heavy on the historical content.
Keeping with the tradition of updating the cultural treasure, Fang has created her own version of the work for solo piano and will perform its world premiere at Carnegie Hall. She has done her version all by ear, based on her intimate familiarity with the work, incorporating various orchestral elements where she feels they are needed.
"Not everything, but I think it is important," she said.
And she's kept it to the three first movements. "I don't want to put too much about history in my world premiere," she said. "I just want to bring the beauty of the music."
She has named it Yellow River Rhapsody and it will be in good company on the Carnegie stage.
Fang is starting her recital with a piece by the grandmaster of musical form and wit, Franz Joseph Haydn. His Sonata in C Major, composed in 1794, features a prankish third movement that begins as a perfectly graceful minute that is twice disrupted with a jolting "wrong chord", only to recover and carry on. It's been likened to two dancers tripping over each other's feet, or, as the great pianist Alfred Brendel described it, a dancer who "slips on a banana skin and suddenly finds himself on the ground".
"You know I studied in Germany for seven years," said Fang, who lives in Beijing and wants to move back to Berlin, "and I really love the German-Austrian School. "
"So Haydn, of course Mozart, Beethoven, but I can't play everything tomorrow. So I choose Haydn," she said, adding that there is something very "humorous and pure" about his work.
After that comes Seven Fantasies by Brahms, Fang's "favorite composer".
"I feel very close to him," she said. "Not because I went to Germany, it was before I went there. I can understand what he thought, the music has a special integrity and a kindness."
Then, after the Yellow River Rhapsody comes Chopin. "You know, all Chinese pianists love Horowitz," she said, "and his recital in Carnegie Hall was all German, Austrian Romantic themed, and Chopin."
Fang chose Chopin's Andante spianato et Grand Polonaise Brillante, which he wrote in his early 20s.
Spoiler alert: If Fang is called back for an encore, she will play a Chinese piece based on the tonalities of two traditional instruments - the guzheng zither and xiao flute. China Daily was lucky enough to hear a sample.
Called back again, she will play Chopin's "black keys" Etude in G-flat Major. If the audience has any brains, they'll keep her there to see what comes after that.
Contact the writer at chrisdavis@chinadailyusa.com.