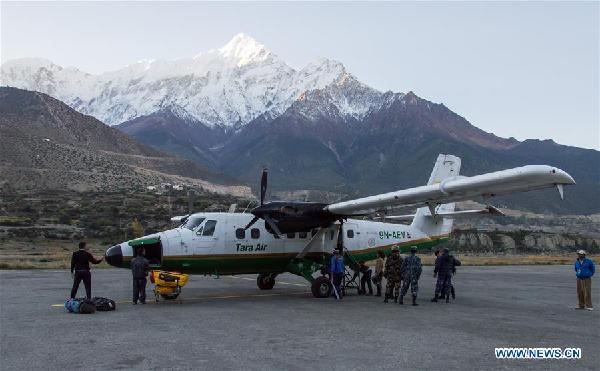 Undated file photo shows a Twin Otter plane landing at Jomsom, Mustang, Nepal. [Photo/Xinhua]
KATHMANDU -- A missing aircraft of Tara Air has been found crashed in Myagdi district, some 300 km off the capital, killing all 23 people on board.
Laxmi Prasad Dhakal, spokesperson of the Home Ministry, told Xinhua, "A team of Nepal police and Nepal Army deployed at the site have claimed that the plane has been completely destroyed with no signs of human lives."
District Police Office Myagdi says the police located the crashed aircraft in a treacherous terrain of forest in Myagdi.
A police officer at the site told Xinhua via phone, "We can find parts of plane and dead bodies in a scattered form. The bodies are not in identifiable position at all."
The aircraft was carrying 18 passengers including two infants and three crew members.
Two foreigners, a Hong Kong resident surnamed Mak and a Kuwaiti national, were among the 23 on board.
Sagar Mani Pathak, Chief District Officer of Myagdi district, said, "The crash site is in a very complex geography due to which it took long hours to find out."
The Twin-Otter-400 series (9N AHH) aircraft was flying from Pokhara to Jomsom on Wednesday.
It took off at 7:50 am local time but went out of contact of the control tower after nearly nine minutes.
The aircraft was scheduled to land at Jomsom Airport at 8:10 am local time.
The flight distance between Pokhara and Jomsom is only 20 minutes.
According to an official statement of Tara Air, the weather at both origin and destination airports were favorable and the airport was cleared for the departure by the control tower in Pokhara.
The brand new aircraft, which was added to fleet in September, was flown by senior pilot Roshan Manandhar.
Local media reported that the last communication occurred between the pilot and the control tower was "see you back, good day" by the captain.
The plane had been flying to remote hilly and touristic destinations including Lukla, Phaplu, Dolpa and Rara.
Jomsom is one of the major tourist destinations in the Himalayan country which is mostly popular for trekking purpose.
Direct flights are available for high-altitude Jomsom airport only from Pokhara in early morning.
In May 2012, 15 people died when an Agni airplane crashed near the Jomsom airport while six made a miraculous escape due to complex geography.
To a land-locked country, air transport is regarded as the most reliable means of connectivity.
However, air accidents have always been a major concern in the Himalayan country which has 56 domestic airports among which only 32 are in operation at present.
Flying in Nepal is regarded as highly challenging due to the high terrains, unpredictable weather pattern and poor navigation system on the ground.