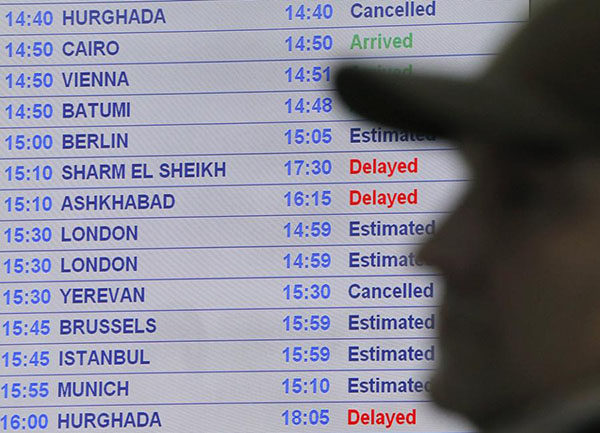 A man stands near an electronic board, which displays information on flights including the ones, which connect Moscow and the Egyptian resorts of Hurghada, Sharm al-Sheikh and the capital Cairo, at Domodedovo airport outside Moscow, Russia, November 7, 2015. Egypt's military has taken control of operations to put Russian passengers on flights back to Moscow after Russia suspended flights to Egypt, state-run RIA news agency cited Russian Deputy Prime Minister Arkady Dvorkovich as saying on Saturday. [Photo/Agencies]
SHARM AL-SHEIKH, Egypt - A holidaymaker stranded in Egypt's Sharm al-Sheikh airport was wearing a t-shirt with the slogan "take what you need" -- summing up the growing desperation and chaos at the resort following the crash of a Russian passenger plane.
Hundreds of people, mostly Russians and Britons, were told by officials that their check-in luggage would not be making the trip back with them, one week after the Airbus A321 slammed into the Sinai Peninsula.
It is just one obstacle tourists face and there may be more as Western countries raise the possibility that a bomb planted by Islamist militants knocked the plane out of the sky.
Outside the terminal were a dozen parked buses, all carrying more visitors wondering when they will finally head home.
Policemen wearing bullet proof vests carried assault rifles and an army van brought in troops for reinforcements.
The mayhem piled more pressure on Egyptian authorities, who depend heavily on tourism for revenue, to show they are providing adequate security for impatient foreigners.
"They've gone from one extreme to another. It went all the way from insecure to very secure," said Alexander McFadzean, 55, a transport manager eager to get back to Yorkshire.
He was initially meant to travel on Thursday.
Western governments have said the crash which killed all 224 passengers and crew may have been caused by a bomb and several countries have suspended flights to Sharm al-Sheikh resort, from where the Russian plane took off.
Egypt has said it has not ruled out any scenarios but stressed the investigation should take its course. Some passengers are drawing their own conclusions.
"If they had the same level of security they have now before this happened, it wouldn't have happened," McFadzean said.
Airport security was lax when he first landed, two weeks before the disaster, he said.
"Airport staff offered to fast-track me if I paid 50 (British) pounds. They were going to let me jump the queue."
Reuters could not immediately confirm that.
A spokesman for Egypt's civil aviation ministry said Sharm al-Sheikh airport followed all international security procedures and had been inspected by several international delegations, including a British, one weeks ago.