The joint effort between the US and China to tackle climate-change challenges has spread from the government to other fields.
Three top environmental professionals from China will join the keynote speakers at the Public Interest Environmental Law Conference (PIELC) next month in Eugene, Oregon, to discuss climate issues from the legal, business and academic perspectives.
The PIELC, the oldest and largest conference of its kind, was initiated in 1983 by 15 speakers and 75 participants at University of Oregon law school.
This year, the 34th annual conference from March 3-6 will include more than 125 panels, workshops and multimedia presentations addressing a range environmental law and advocacy topics.
The three Chinese representatives are Lai Huineng, vice-president of Xiaokang magazine, with its research providing insight into China's environmental and urbanization policy; Jiwen Chang, a professor in the social law research department at the Institute of Law for the Chinese Academy of Social Sciences, the think-tank of the Chinese central government; and Cao Yin, considered the Chinese version of Jeremy Rifkin, the renowned American economic and social theorist and writer.
Some of the key topics will be forest protection and ecological restoration, labor and human rights, air and water pollution, environmental justice, corporate responsibility, international environmental, urban growth and other issues of public interest.
Eugene resident Ocean Yuan, founder of solar power business Grape Solar, will play host to the three Chinese guests.
"The United States is facing environmental disaster, so is China," Yuan said. "The world's two largest economies have a shared responsibility to confront environmental degradation, the most pressing issue of our time."
Since China launched a modernization program in the 1980s to achieve what became known as a xiaokang society, or moderately prosperous society, the country aims to advance a strong economy and promote democracy, scientific and technological achievement, education and a harmonious living environment for all of its citizens by 2020.
While China's economy has mostly been on the fast track the past three decades, its environment continues to deteriorate. Beijing's average PM 2.5 density from Nov 15 to Dec 31 rose 75.9 percent year-on-year in 2015, despite the general improvement of air quality, according to a Xinhua report last month. Major cities across China suffered from continuous smoggy days due to high pollution. Red alert, the highest on the scale for heavy air pollution, has become a familiar term for Chinese citizens.
Facing a public outcry to clean up the environment, the Ministry of Environmental Protection vowed to strengthen its efforts to curb pollution.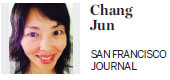 At last September's US-China Climate Leaders Summit in Los Angeles, Xie Zhenhua, special representative on climate change affairs at the National Development and Reform Commission of China, said at the conference that both China and the US vowed to launch closer collaboration among cities, state and provinces across the Pacific and to retain strong momentum on climate-change issues.
"Climate change is not only a common challenge for China and the US, but also a shared opportunity to strengthen cooperation in developing a green and low-carbon economy," Xie said.
Jiwen Chang is ready to share at the PIELC his insights into China's environmental policy, its successes and shortcomings. One of the authors of China's environmental protection law, Chang currently is writing laws to expand wildlife protection in China.
The vision of Cao Yin, a representative of China's young minds and one of the driving forces behind the Internet Plus Smart Energy movement, is to drive companies toward sustainable, smart energy technology, with the goal of globalizing the energy grid.
Many believe Cao's strategy provides solutions to the global energy pollution crisis and would begin to eliminate reliance on coal, without resorting to dangerous tactics such as nuclear energy, the organizers said.
These collaborations hopefully will provide leaders across China and the US the opportunity to share with their counterparts their lessons and failures, their successes and expertise.
Contact the writer at junechang@chinadailyusa.com