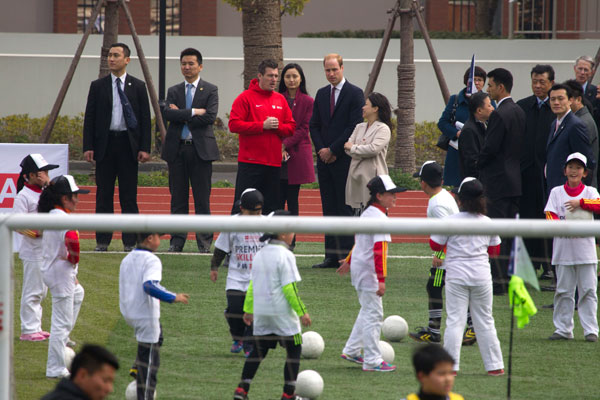 Britain's Prince William watches students undertaking training during a visit to a Premier League training camp at Nanyang Secondary School in Shanghai March 3, 2015. The prince, also the the Duke of Cambridge, is on his four-day visit to China. He traveled to Shanghai from Beijing Monday. The last stop will be Yunnan province, where he will visit an elephant sanctuary and a nature reserve. [Photo by Gao Erqiang for chinadaily.com.cn]
Prince William welcomes more Chinese in Premier League
President Xi Jinping and Prince William, both avid soccer fans, discussed sports exchanges between China and Britain, highlighting the cooperation in soccer during their meeting in Beijing on Monday.
Prince William asked about President Xi's interest in football and said he hoped to see more Chinese play in the English Premier League (EPL).
Prince William now serves as President of England's Football Association starting from May 2006.
Xi said China had cooperated with Britain in football in different ways, including a cooperation deal signed in 2013 between the Chinese Super League and EPL, and would like to learn the game from world top teams including England.
Xi added that he expected William to continue to promote sports exchange and cooperation between the two countries.
Chinese first landed on EPL in 2002 when Sun Jihai joined Manchester City and Li Tie, now a Chinese national team coach, made it to Everton. They were followed by Dong Fangzhuo and Zheng Zhi, current China captain. More stories
Related:
The British royal family and its China connections