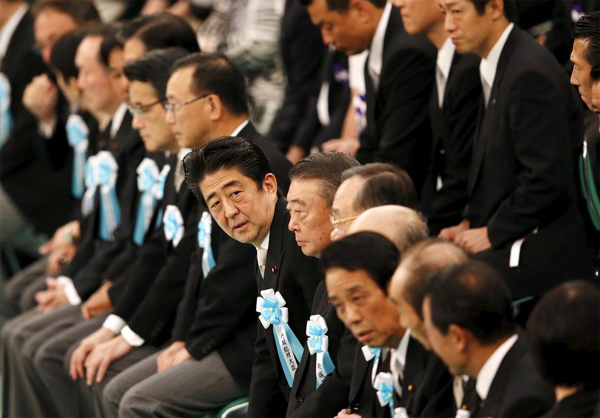 Japan's Prime Minister Shinzo Abe (C) attends a memorial service ceremony marking the 70th anniversary of Japan's surrender in World War Two at Budokan Hall in Tokyo August 15, 2015. [Photo/Agencies]
BEIJING - Japanese Prime Minister Shinzo Abe issued a statement Friday to mark the 70th anniversary of the end of World War II, but refrained from offering his own apology for Japan's wartime past, drawing criticism from media and scholars worldwide.
South Korean media widely believed that Abe's statement avoided direct apology and lacked sincerity.
Yonhap News Agency said in a commentary that Abe's statement was a huge step backwards, in comparison with the statements made by Japan's previous prime ministers Tomiichi Murayama and Yohei Kono.
Both Murayama and Kono clearly mentioned in their statements that Japan's colonial rule and aggression caused tremendous damage and suffering to many Asian countries, Yonhap said, but Abe used ambiguous wordings for introspection and apology.
The South Korean newspaper Chosun also said that Abe's statement did not clearly state that Japan was the responsible party.
The newspaper said that Abe's statement stopped at the "past apologies" and did not directly point out that Japan was responsible for colonial rule and aggression.
When reporting Abe's statement, the Associated Press (AP) said on Friday that the Japanese leader stopped short of an apology for World War II.
For its part, Reuters reported on Friday that Abe expressed "utmost grief" over the war but offered no fresh apology.
Abe used the words "apology" and "aggression" in the statement, but unlike his predecessors Murayama and Junichiro Koizumi, he did not speak in his own words, said Minoru Morita, a Tokyo-based political analyst.