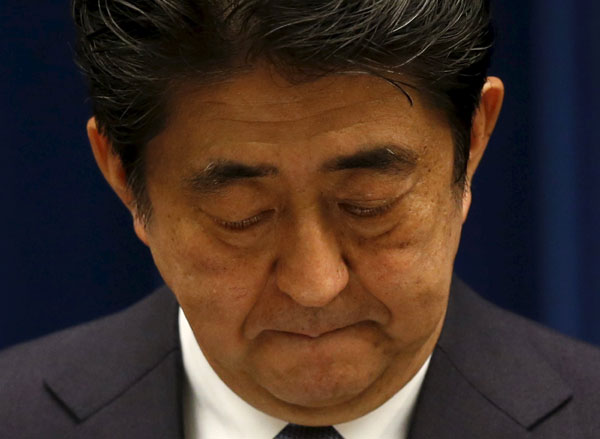 Japan's Prime Minister Shinzo Abe attends a news conference for delivering a statement marking the 70th anniversary of World War II's end, at his official residence in Tokyo, August 14, 2015. [Photo/Agencies]
TOKYO - Japanese Prime Minister Shinzo Abe on Friday mentioned previous governments' apology for Japan's wartime past, but refrained from offering his own apology.
"Japan has repeatedly expressed the feelings of deep remorse and heartfelt apology for its actions during the war," the prime minister said in his statement marking the 70th anniversary of the end of World War II. "Such position articulated by the previous cabinets will remain unshakable into the future."
But the prime minister also said that Japan must not let its future generations "be predestined to apologize".
Abe said that aggression and war should never be the means to resolve international disputes and Japan will abandon colonial rule forever, but he stopped short of mentioning directly Japan's past aggression and colonial rule before and during WWII.
In the 1995 landmark Murayama Statement, then prime minister Tomiichi Murayama directly stated that "following a mistaken national policy," Japan, "through its colonial rule and aggression, caused tremendous damage and suffering to the people of many countries, particularly to those of Asian nations."
Meanwhile, Abe also failed to directly refer to the "comfort women," a Japanese euphemism for about 200,000 women who were forcibly recruited as sex slaves in Japanese military-run brothels.
"We will engrave in our hearts the past, when the dignity and honor of many women were severely injured during wars in the 20th century," said the prime minister.
On the reason why Japan launched the wars in the past, the prime minister laid bare his historical revisionism by blaming the Western countries' colonial economic blocs that delivered a blow to Japan's economy and Japan therefore used force to "overcome its diplomatic and economic deadlock."
Abe also said that Japan's modernization came from a sense of crisis of Western powers' overwhelming supremacy in technology and waves of colonial rule toward Asia.
On Japan's future, Abe claimed that his country will uphold "proactive pacifism" and cooperate with countries sharing common values to contribute to world peace and prosperity.