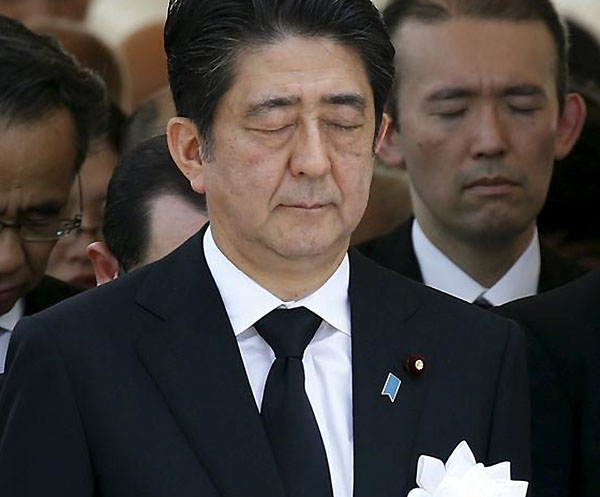 Japan's Prime Minister Shinzo Abe offers a silent prayer for victims of the 1945 atomic bombing, during a ceremony commemorating the 70th anniversary of the bombing of the city at Nagasaki's Peace Park in western Japan, August 9, 2015. [Photo/Agencies]
ROME - Japanese Prime Minister Shinzo Abe's statement to mark the 70th anniversary of the end of WWII may mention Japan's wartime crimes, which Italian experts wish will be a clear apology and become a touchstone for future relations with neighbors China and South Korea.
According to media reports, however, the historical details may be narrated by Abe in a way that echoes his historical revisionist idea that Japan was forced to launch a "war of self-defense" instead of "aggression" in the past, in efforts to satisfy right-wing forces behind him.
"In fact, Japan's barbarities are globally known and have been ascertained by international courts," Natalino Ronzitti, an emeritus professor of international law at LUISS University in Rome and an advisory expert for the Rome-based Institute of International Affairs (IAI), told Xinhua on Wednesday.
"Historical memory is important in order to help progress and avoid that certain brutalities happen again," he stressed.
The 1995 statement of Tomiichi Murayama had gained world recognition because the then Japanese premier clearly stated that he felt deep remorse and offered a heartfelt apology for Japan's colonial rule and aggression. Former prime minister Junichiro Koizumi repeated such expressions in his statement in 2005 on the 60th anniversary of the end of WWII.
Many of the Sino-Japanese controversies at the present time, Ronzitti went on saying, derive from tragic historical facts including the Nanjing Massacre, when Japanese aggressors captured the then China's capital and started 40-odd days of slaughter with over 300,000 people murdered, and Chinese comfort women who were forced to serve as sex slaves for Japanese troops during WWII.
In his view, an international arbitration could help reconciliation between the two countries. But Abe's efforts to revise the Japanese pacifist constitution as well as his probable refusal to clearly address the theme of apology in the upcoming speech are not going in this direction, Ronzitti noted.
Davide Rossi, a historian and director of the Locarno-based ISPEC Institute of History and Philosophy of Contemporary Thought, noted that since many years ago the commercial exchange and economic ties between China and Japan have improved bilateral relations as well as the idea that public opinions of the two countries have about each other.
"All of this, however, does not erase the complexity of the 20th century, a century in which the Japanese expansionism was marked by a violent aggressiveness against all peoples of East Asia," Rossi underlined.