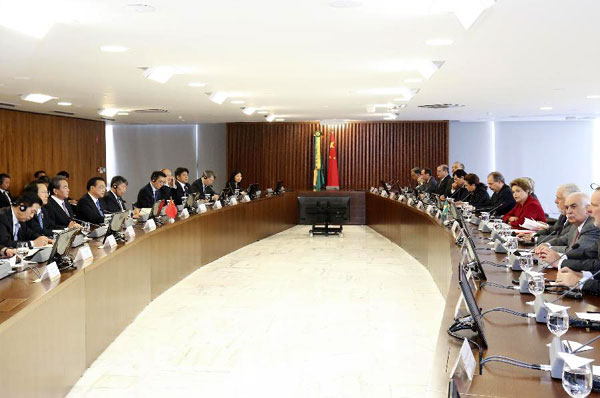 Chinese Premier Li Keqiang (4th L, front) and Brazilian President Dilma Rousseff (4th R) hold talks in Brasilia, capital of Brazil, May 19, 2015. [Photo/Xinhua]
Wang Zhen, a former ambassador to Uruguay and Venezuela, said the action plan for industrial production marks the start of a new era of economic cooperation between China and Brazil.
"China is seeking to diversify its trade pattern by exporting more industrial production capacity, while Latin American countries rely too much on exports of raw materials," she said.
The deals also include the start of a feasibility study of a proposed transcontinental railway linking Brazil and Peru.
The Chinese-built, cross-Andes line is expected to connect cities on the Pacific coast in Peru with Brazil's Atlantic coast, experts said. The route would greatly reduce transportation costs in Brazil, especially for ore and soy.
China said in a joint statement that it will speed the approval of buying 22 jetliners from Brazilian aerospace conglomerate Embraer, as the first part that went through the whole purchasing procedure of a 60-aircraft deal announced during President Xi Jinping's visit to the region last year. China also will lift its ban on imports of Brazilian beef.
China has been Brazil's largest trade partner since 2009, accounting for 18 percent of the country's foreign trade. Bilateral trade last year stood around $78 billion, according to the Brazilian authorities. China had invested more than $18.9 billion in Brazil up to last year.