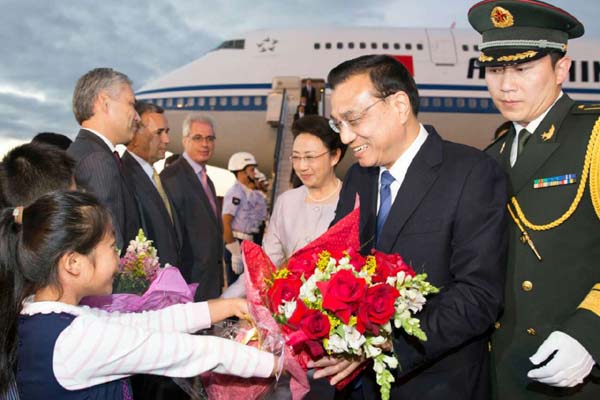 Premier Li Keqiang arrives in Brasilia, the capital of Brazil on the afternoon of May 18 local time to kick off his official visit to Latin America. Brazil is the first leg of the Premier's Latin American tour that will also take him to Colombia, Peru and Chile. [Photo/Xinhua]
China's investments in Brazil have changed to infrastructure and energy from raw materials and industrial sectors, according to Brazilian daily newspaper O Globo.
"There is a kind of evolution of Chinese investment in Brazil. We have already been in a third wave. It started in the energy sector with China's State Grid, and now there is much interest in railways," the newpaper quoted Guilherme Billi, head of the trade-promotion sector at the Brazilian embassy in Beijing, as saying.
The State Grid Corporation of China has invested more than $1 billion to construct and manage power transmission projects in Brazil. Chinese investors are also very interested in railways and "all the large railways groups in China want to operate in Brazil," added Billi.
In August, China Railway Eryuan Engineering Group Co Ltd qualified to develop a feasibility study for the transoceanic railroad between Sapezal and Porto Velho, linking Brazil to the Pacific Ocean.
Chinese investments in Brazilian railways are regarded as a win-win scenario, benefiting the Chinese companies and helping Brazil transport goods to China. Transportation logistics are a main problem for Brazil when it comes to exports.
"Chinese companies have gone to Brazil to know the laws and rules, but are still waiting for the auctions and bids," said Belli, adding that all of China's major railway companies want to work in Brazil, from supplying trains and manufacturing locomotives to the administration of railways.
China has been Brazil's largest trade partner since 2009, accounting for 18 percent of the country's foreign trade. Despite a slight decrease, bilateral trade last year was $78 billion, according to Brazilian authorities.
Brazil is so interested in Chinese investments that its National Transports Confederation set up an office in Beijing last year, according to O Globo, to highlight business opportunities to Chinese investors and to explain how the Brazilian market works.