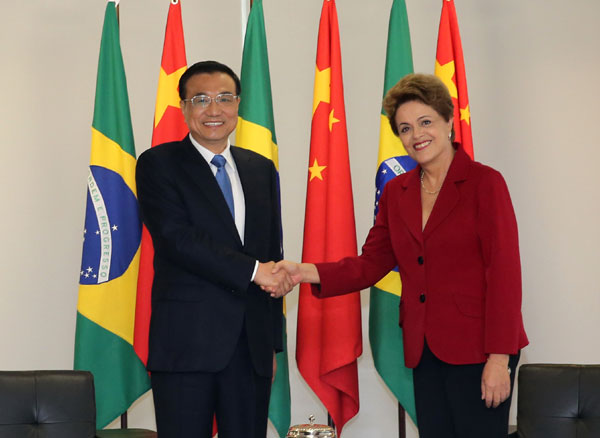 Premier Li Keqiang and Brazilian President Dilma Rousseff greet each other at a meeting at the Planalto Palace in Brasilia on May 19, 2015. [Photo/Xinhua]
China signed deals worth $27 billion with Brazil on Tuesday, putting its economic influence in Latin America on a firmer footing.
Experts said the agreements will help Latin America's largest economy battle a fifth straight year of poor growth and spiraling inflation.
Premier Li Keqiang and Brazilian President Dilma Rousseff watched the signing ceremony after hours of talks in Brasilia that touched on a wide range of topics, including trade, industrial cooperation and climate change.
In addition, Beijing shared its experience of holding the Olympics with the next host country.
"China and Brazil are the largest developing economy in the East and the West Hemisphere. A deepened cooperation between China and Brazil will contribute to not only both countries, but also the recovery of the world's economy," Li said at the meeting with Rousseff.
Under the agreements, the two countries will set up an action plan to encourage cooperation in industrial production, helping Brazil improve its sagging infrastructure ahead of the 2016 Summer Olympic Games in Rio de Janeiro. The plan will also enhance bilateral trade away from the current focus on resources to a more comprehensive, balanced pattern.
"The focus of bilateral industrial cooperation can be put in railroad, mining industry, power supplies and equipment manufacturing," Li said.
Rousseff thanked Li for choosing Brazil as the first stop of his maiden Latin American visit since he took office in 2013. She said Li's visit marks a historic moment in Brazil-China ties.