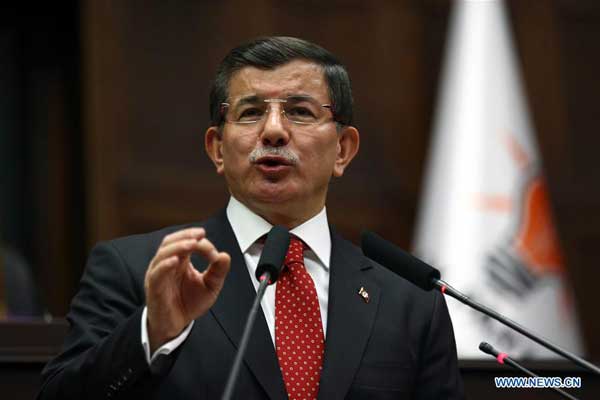 Turkish Prime Minister Ahmet Davutoglu delivers a speech at the parliament in Ankara, Turkey, on Dec. 22, 2015. [Photo/Xinhua]
ANKARA - Turkish Prime Minister Ahmet Davutoglu said on Tuesday that Turkey's military training and equipment support for Iraq will continue until Mosul is liberated from the Islamic State (IS) militants.
Turkey is part of a US-led coalition against the IS and will continue to participate in anti-terrorism operations, said Davutoglu at a meeting of the ruling Justice and Development Party's (AKP) parliamentary group.
He underscored that Turkey will continue to stand up against all oppressive forces, including Russia, which bomb civilians, instead of IS terrorists in Syria.
Tensions remain high between Turkey and Russia following Turkey's shooting down of a Russian military jet on Nov. 24 over airspace violation. After the incident, Russia imposed a range of unilateral sanctions against Turkey, including a ban on food imports.
Russia has been carrying airstrikes in Syria since Sept 30 in a bid to support Syrian President Bashar al-Assad's government.
The Syria-Turkey relations have hit the bottom since the beginning of the Syrian crisis in 2011. Turkey blames Assad for prolonging the crisis, while Damascus accuses Ankara of facilitating the flow of foreign jihadists into Syria.