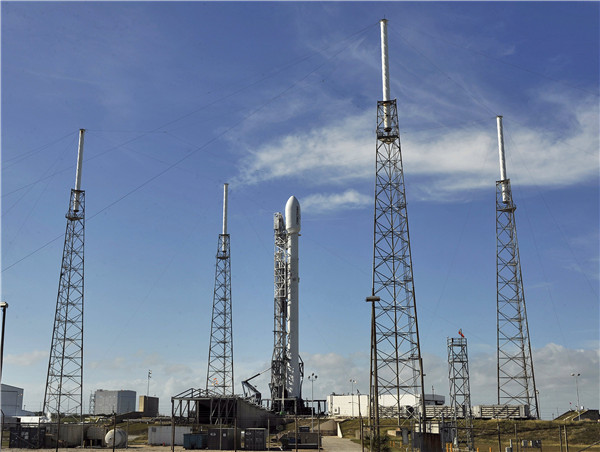 The SpaceX Falcon 9 rests on its launch pad at the Cape Canaveral Air Force Station on the private company's first mission since a June catastrophic failure in Cape Canaveral, Florida, Dec 21, 2015. [Photo/Agencies]
CAPE CANAVERAL, Fla. - A SpaceX Falcon 9 rocket blasted off from Florida on Monday with a payload of communications satellites before the reusable main-stage booster turned around, soared back to Cape Canaveral and landed safely near its launch pad in a dramatic spaceflight first.
The launch and successful return of the rocket's first stage, followed by deployment of all 11 satellites delivered to orbit for customer ORBCOMM, marked the first SpaceX flight since a June accident that destroyed a cargo ship bound for the International Space Station.
The upgraded 23-story-tall rocket lifted off from Cape Canaveral Air Force Station at 8:29 pm EST/0129 GMT, with the main stage returning minutes later to a landing site about 6 miles from the launch pad.
The smooth mission gives a major boost to privately owned Space Exploration Technologies, or SpaceX, the California-based company founded and operated by high-tech entrepreneur Elon Musk.