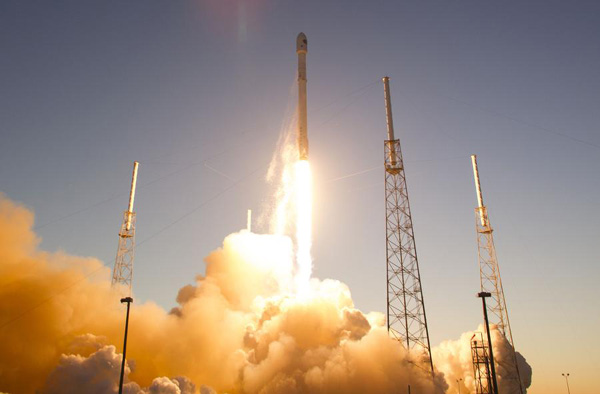 The unmanned Falcon 9 rocket, launched by SpaceX and carrying NOAA's Deep Space Climate Observatory Satellite, lifts off from launch pad 40 the Cape Canaveral Air Force Station in Cape Canaveral, Florida February 11, 2015. [Photo/Agencies]
WASHINGTON - Private US firm SpaceX on Wednesday launched a satellite for the US National Oceanic and Atmospheric Administration (NOAA) to monitor the solar wind and aid in space weather forecasts on Earth in what marked its first deep space mission.
The satellite, known as Deep Space Climate Observatory (DSCOVR), blasted off atop a SpaceX Falcon 9 rocket at 6:03 pm EDT (2303 GMT) from Cape Canaveral Air Force Station, Florida.
The California-based company originally scheduled to land the rocket's first stage to a floating ocean platform, but said early Wednesday that such recovery is impossible due to extreme weather at the landing site.
Instead, SpaceX chose to land the rocket softly in the ocean, acknowledging that survival is "highly unlikely."
The floating platform "was designed to operate in all but the most extreme weather. We are experiencing just such weather in the Atlantic with waves reaching up to three stories in height crashing over the decks," SpaceX said in a statement before launch.
"Also, only three of the drone ship's four engines are functioning, making station-keeping in the face of such wave action extremely difficult."
The company's first attempt on Jan 10 ended with the first stage landing hard on the platform, which is about 91 meters long and 52 meters wide.