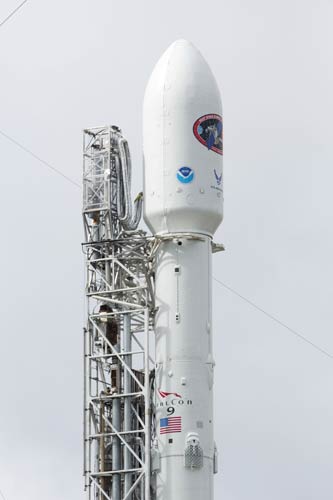 The unmanned SpaceX Falcon 9 rocket, carrying NOAA's Deep Space Climate Observatory Satellite, sits on launch pad 40 at the Cape Canaveral Air Force Station in Cape Canaveral, Florida February 10, 2015. [Photo/Agencies]
CAPE CANAVERAL - A SpaceX Dragon cargo ship made a parachute return into the Pacific Ocean on Tuesday, while high winds in Florida scrapped plans for the company's Falcon rocket launch, NASA said.
The Dragon capsule departed the International Space Station at 2:10 p.m. EST/1910 GMT and splashed down about 260 miles (418 km) southwest of Long Beach, California, about 5.5 hours later.
The Dragon is loaded with nearly 4,000 pounds (1,814 kg) of returning science experiments and equipment, including two faulty components from spacesuits that NASA wants to analyze before clearing astronauts for a trio of spacewalks later this month.
Dragon's return overlapped with the company's Falcon 9 launch attempt at Cape Canaveral Air Force Station in Florida. The rocket was grounded by high upper-level winds.
"Extreme wind shear over Cape Canaveral. Feels like a sledgehammer when supersonic in the vertical," SpaceX founder and Chief Executive Elon Musk posted on Twitter.
SpaceX will try again at 6:03 p.m. EST/2303 GMT on Wednesday to launch the US government's Deep Space Climate Observatory, or DSCOVR. The satellite is designed to serve as weather buoy to provide about an hour's advance notice of potentially dangerous solar storms, which can disrupt radio communications, satellite signals and power grids on Earth.